Moving Core Banking Into the Cloud
For the most part the needs of customers and big data analytics make the banking world go round nowadays. And when it comes to the needs of customers the most explicit word to describe their preference in the banking experience is "digital". NYMBUS SmartCore represents the fully digital core banking solution that enables banks and credit unions to manage a myriad of workflows with single sign- on, add personal touch to the customer relationship and glean cross-sell insights from the structured data. As a truly full stack solution it powers up the online and mobile banking experience through numerous channels including debit, credit, ATM and prepaid cards, all managed in real-time.
NYMBUS SmartCore's key components cover a wide span of services to assist financial institutions in tackling today's biggest challenges – IT budget constraints, reduced customer loyalty, non traditional competition, new regulatory environment and changing customer demands. According to the vendor, SmartCore's key novelty differentiator is being able to satisfy the sophisticated taste of today's users while at the same time rescinding banks' antiquated banking system in favor of advanced technology. The full stack core banking platform based on the enterprise cloud technology was launched in the fall of 2015, and with the recent acquisition of over 45 customers – has a fully lined up conversion calendar including several clients going live on SmartCore before this year is up.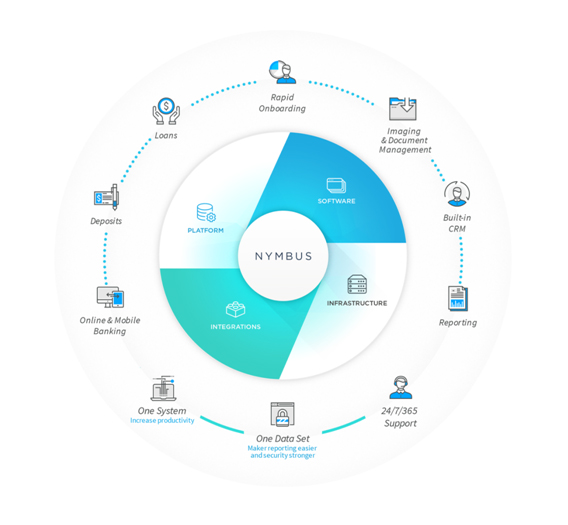 The key benefits of NYMBUS SmartCore include the enterprise-level integration and data management together with filling numerous manual gaps through the banking process. It is worth mentioning some specific features and use cases for NYMBUS SmartCore in the processing of complete document management and reporting. There are a lot of compliance and regulatory issues that can be sorted out using SmartCore. For instance, the bank tellers usually have a lot on their shoulders by the end of the day to close their daily activities and set up the books and records for the next day. The single data set of SmartCore gives you reassurance that all the changes are completed and reflected in the system by offering a complete audit trail of all data and transaction history. From this perspective the legacy systems are not the best choice for modern banking as they cannot really keep pace with the speedy transactions and it's hard to see the centralized picture of the entire operational process. While with core banking in the cloud organizational disruption is no longer an area of concern as real time systems allow more flexibility in the monitoring and reporting through a single dashboard.
Another illustration of SmartCore's capability to process large scale banking operations in real time can be the onboarding process. The platform automates capture of personal data from ID cards with faster verifications and document uploads in the system. Additionally the solution creates a real time customer centric view to the bank's operational team. Depending on the role within the organization employee can build more personal and fruitful relationship with the customer based on the transaction history and personal information collected by the system. This typically includes product preferences of the users, gender, geographical location, account habits, peak banking activity and other indicators to analyze the customer behavior and build on further relationship.
Because NYMBUS is a Software as a Service, innovation never stops. The system is upgraded and improved perpetually without interruption and without having to pay costly development or upgrade fees. SmartCore's full API layer further allows financial institutions to easily integrate any 3rdparty ancillary product they are currently using or want to add, in a third of the time compared to older solutions still using middleware for integrations.
The pricing of NYMBUS SmartCore is easy to track and depends on the consumption plan you choose. Because it is a full-stack system pricing is simple to understand whereas banks get unlimited users based on assets and credit unions based on number of members. Operating costs are significantly reduced based on what financial institutions pay today, being that SmartCore does not charge for the integration or interfaces required to deliver mission critical processing across the digital channels. Hardware and infrastructure costs are also eliminated since the product is run in a private cloud. In addition, NYMBUS is providing a free conversion at no cost to keep financial institutions' capital outlay at a minimum, while making it easier to migrate to a modern technology faster. NYMBUS has extensive corporate policies covering multiple disciplines, with detailed standards and procedures to support those policies. As a financial service provider, NYMBUS is subject to FFIEC examinations, PCI and SOC assessments, as well as GLBA risk assessments.
In terms of competition NYMBUS SmartCore is firmly positioned in line with such vendors as Mambu, Avaloq, Alkami Technology, TEMENOS and FIS. Simultaneously NYMBUS teams up with the peers to build new products and services for the banking industry. Some of the recent partnerships include cooperation with Oracle in the sphere of general ledger, accounts payable and fixed assets, Wolters Kluwer for the development of loan origination solutions and Geezeo for PFM and account aggregation. All in all NYMBUS SmartCore is a good option for those who need an evolved and consolidated banking system with user friendly interface.