Google Pay: Seamless, Effortless and Free
What is the Google Pay?
Google has recently announced combination of such payment services, as Google Pay and Android Pay that has turned into the new payment solution, named Google Pay. It is a single name for online, in-store, in-app, and peer-to-peer payments. The new system ensures that payment information saved in your Google account will be available everywhere you use Google products. For instance, Chrome for web purchases, in Youtube, for renewing subscriptions, in app purchases, and at retail outlets with NFC payments.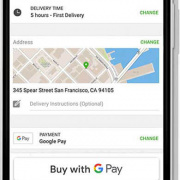 How does it work?
This integration into one payment system enables faster and more consistent check out procedures. Particularly, all the payments information is saved on user's Google account, so it could be accessed anytime anywhere. It will take only a few minutes to set up a ten-lines code. Customers can make payments with just four taps, making it easier to buy inn-app on Chrome with a mobile device. It also can work through the processors like Adyen, Braintree, EBANX, Paysafe, Stripe, Vantiv and Worldpay.
Key features
Easy and fast checkouts

Improves conversion rates

Enables reach at Google scale

No additional Fees

Provides extra security