Pundi X: Any Store Can Buy Sell and Accept Cryptocurrency
Could you please introduce Pundi X's POS solution for cryptocurrency?
The Pundi X POS (Point of Sale) smart device enables shops, cafes and convenience stores to sell cryptocurrency to a broad cross section of regular consumers who would otherwise have little or no access to cryptocurrency. In the blockchain ecosystem Pundi X plays the role of a distribution centre for blockchain technology and cryptocurrency - think of it as the '7-Eleven' of blockchains. Traders can sell cryptocurrency and supporting services to regular consumers through an extremely wide Sales Network that reaches millions of additional users outside online cryptocurrency exchanges. Apart from the Sales Network, Pundi X also has an Advertising and Management Platform that keeps consumers informed about new cryptocurrencies and supporting services.
How did you come up with idea to launch the service?
Pundi X follows the success of our existing business which delivers fintech services in the form of Pundi-Pundi, Pundi Booster, Pundi Toko and Scanbersama apps to users across Indonesia.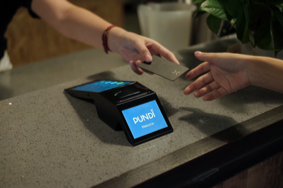 For example, Pundi-Pundi is already one of Indonesia's largest QR payment applications (think Alipay). Since February 2017, Pundi-Pundi has been downloaded over 100,000 times, achieving 20,000 monthly active users. Today, over 500 retail outlets, restaurants and cafes accept our Pay-By-QR apps. Users are concentrated in Indonesia's capital city of Jakarta with an eventual roll out planned across the whole of South East Asia. Pundi-Pundi is available on the iOS AppStore and on Google Play.
What is the core function of the Pundi X POS Solution?
When installed in retail outlets, Pundi X POS device enables consumers to quickly and easily buy or sell cryptocurrency using fiat money (Dollars, Rupiah, Baht etc.), bank card, mobile wallet or Pundi X Pass. The purchased cryptocurrency can be stored in a digital wallet or used to make cashless payments to top up phones, pay utility bills or buy goods. The Pundi X POS is a smart device that is built to distribute cryptocurrency and is connected to the blockchain, so that each transaction is recorded on the blockchain information ledger.
Consumers use Pundi X POS to:
buy BTC, ETH, LTC, PXS (Pundi X Tokens) and cryptocurrency using cash or card
sell BTC, ETH, LTC, PXS (Pundi X Tokens) and cryptocurrency for cash
top up fiat money in a digital wallet
buy utilities and services, e.g. electricity using cryptocurrency
buy physical goods using cryptocurrency
Since each Pundi X POS device is connected to the web, software and feature updates can be performed remotely. For example, an update may introduce new blockchain features; schedule the sale of new tokens; or arrange for a new cryptocurrency to be issued by means of an ICO (Initial Coin Offering).
Who needs this service?
Unlike markets such as China where Alipay and WeChat Pay set the standard, cashless payments in Indonesia have been slow to take off - in part, because of a low level of just 23% bank account ownership and limited mobile digital payment penetration in a market where consumer purchases are still largely cash-based and offline. Consequently, Pundi X will play an important role in helping to deliver financial services to the very significant 'unbanked'population of South East Asia.
After a roll out across Indonesia, Pundi X will deploy its service in South Korea and other parts of Asia. We will also explore a partnership model for faster deployment in different parts of the world.
Regular consumers are not cryptocurrency experts. They have read stories about bitcoin and the blockchain; they have also witnessed the rise and fall in the value of bitcoin; yet 99% of these people don't know how to buy bitcoin or other cryptocurrencies. Only specialists really understand the meaning of terminology such as 'private and public key', 'bitcoin addresses' and 'digital signatures'. For most consumers, this is just a confusing muddle of information. So suggesting that regular consumers go out and purchase bitcoin today is unimaginable. What is even harder to understand is that very few people are trying to address this issue today! Pundi X is here to solve this important problem by helping regular consumers buy cryptocurrency - by making the process as easy as buying a bottle of water from a convenience store! We ensure that cryptocurrency investors, developers, exchanges and blockchain companies all benefit from our Pundi X solution.
What are the key features of the service?
The target for Pundi X is to enable every convenience store to be part of the blockchain ecosystem. With Pundi X POS devices, we now have a cost-effective approach to achieving this goal. Each device is connected to the blockchain using XPlugins via two layers: the communication layer and the blockchain layer. The communication layer delivers a 'buy' request and uses the blockchain layer to make a record of the sale. This information is then stored permanently in the blockchain. As a result, developers all over the world can now collaborate with all Pundi X devices.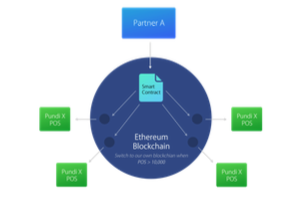 We allow developers as well as cryptocurrency traders and holders to sell their cryptocurrency via our sales network. Major cryptocurrency and ERC20 tokens can be accepted and sold on Pundi X POS and developers can use XPlugins to connect to digital wallets, creating smart contract requests that can be supported by Pundi X devices. The system automatically generates smart contractS in the Ethereum blockchain after receiving orders from XPlugins.
How user-friendly and easily accessible is the service?
Pundi X POS is the most user-friendly way to buy, sell or use cryptocurrencies. When making cashless payments using cryptocurrency, the cryptocurrency is exchanged back to fiat money in real time before buying goods, making the currency conversion process completely seamless to the user.
On the merchant side, the POS works like any other POS with the addition of the cryptocurrency service that is also implemented seamlessly here.
​What reporting capabilities are available?
Approximately 73% of the population of South East Asia does not have a bank account. In addition, tracking user credit ratings presents a major challenge without a workable credit rating system and so bank loan approval causes many difficulties. Consequently, Pundi X aims to collaborate with local financial institutions to create an effective credit rating system by addressing the biggest challenges of privacy and decentralized control by using blockchain technologies.
Pundi X has an API suite that connects to the Ethereum blockchain and stores user data in the blockchain in the form of hash calculations. The aim is to store all data indefinitely - including utility bill history.
Our approach is to store the hash results in the Ethereum blockchain instead of all the credit data. The hash data can then be retrieved and validated in order to check the full set of data stored outside the blockchain.
By accessing the open database and calculating a hash, Pundi X partners can match the result with the hash record that is stored in the Ethereum blockchain: if both results match, then user identity and data-integrity is validated. By avoiding the need to store all data in the Ethereum blockchain, we have developed a cost-effective method that also effectively addresses privacy issues. Today, no user data is stored in the Ethereum blockchain, only hashes. Financial institutions can now retrieve credit rating data effectively and perform further calculations on their own servers, while avoiding impinging on client privacy.
What is your pricing strategy?
The X POS device is geared towards a low fee or free model whereby shop merchants are encouraged to acquire devices from Pundi X at minimal cost. Revenue is shared between shop merchants and Pundi X each time a service or cryptocurrency is delivered to users.
This revenue model comes from the sale and usage of the Pundi X native token called PXS in the Pundi X ecosystem, enabling B2B merchants (such as online cryptocurrency trading platforms or other companies selling virtual goods) to use PXS tokens to enter the Sales Network ecosystem. PXS tokens are available for sale during the Pundi X ICO in October.
About Pundi X
Pundi X is a blockchain startup that aims to make cryptocurrency an enabler of ubiquitous cashless payment environments across South East Asia and beyond. Pundi X POS (Point of Sale) enables shops, cafes and convenience stores to sell cryptocurrency to a broad cross section of regular consumers and builds on the success of Pundi-Pundi which is one of Indonesia's most popular QR code cashless payment apps. The launch of Pundi X POS is a stepping stone towards an ICO in late 2017 that will provide funding for between 100,000 and 700,000 Pundi X POS devices to be installed over the next three years across all target markets.
Pundi X's pre-ICO commenced on 7 October 2017 at www.pundix.com. Participants need to complete a simple KYC (Know Your Customer) process to meet compliance requirements before participating in the pre-ICO.