iMAL: Powering Islamic Banking Infrastructure
The Islamic financial services industry is expanding and experiencing tremendous growth day by day that drives new challenges and trends. As an industry leader, Path Solutions offers Islamic financial institutions and microfinance companies cutting-edge software solutions that meet functional requirements in accordance with the Islamic principles of Sharia Law.
What Does the System Do?
Path Solutions' flagship iMAL Enterprise Islamic Banking & Investment System is a powerful core banking system explicitly built from the ground up to support Sharia banking operations. iMAL is rightly geared to address country and region-specific Islamic banking requirements.
iMAL provides a powerful and service-oriented banking infrastructure without constraints and with minimum disruption to banking operations. iMAL is the only 100% Islamic banking solution as certified by AAOIFI (Accounting and Auditing Organization for Islamic Financial Institutions) in 2008.
All iMAL modules are based on the Islamic law and are in full compliance with IAS (International Accounting Standards). The system is built on the Sharia guidelines for the purpose of financing related to Murabaha, Mudaraba, Ijara, Istisnaa, Salam, project financing, real estate and others.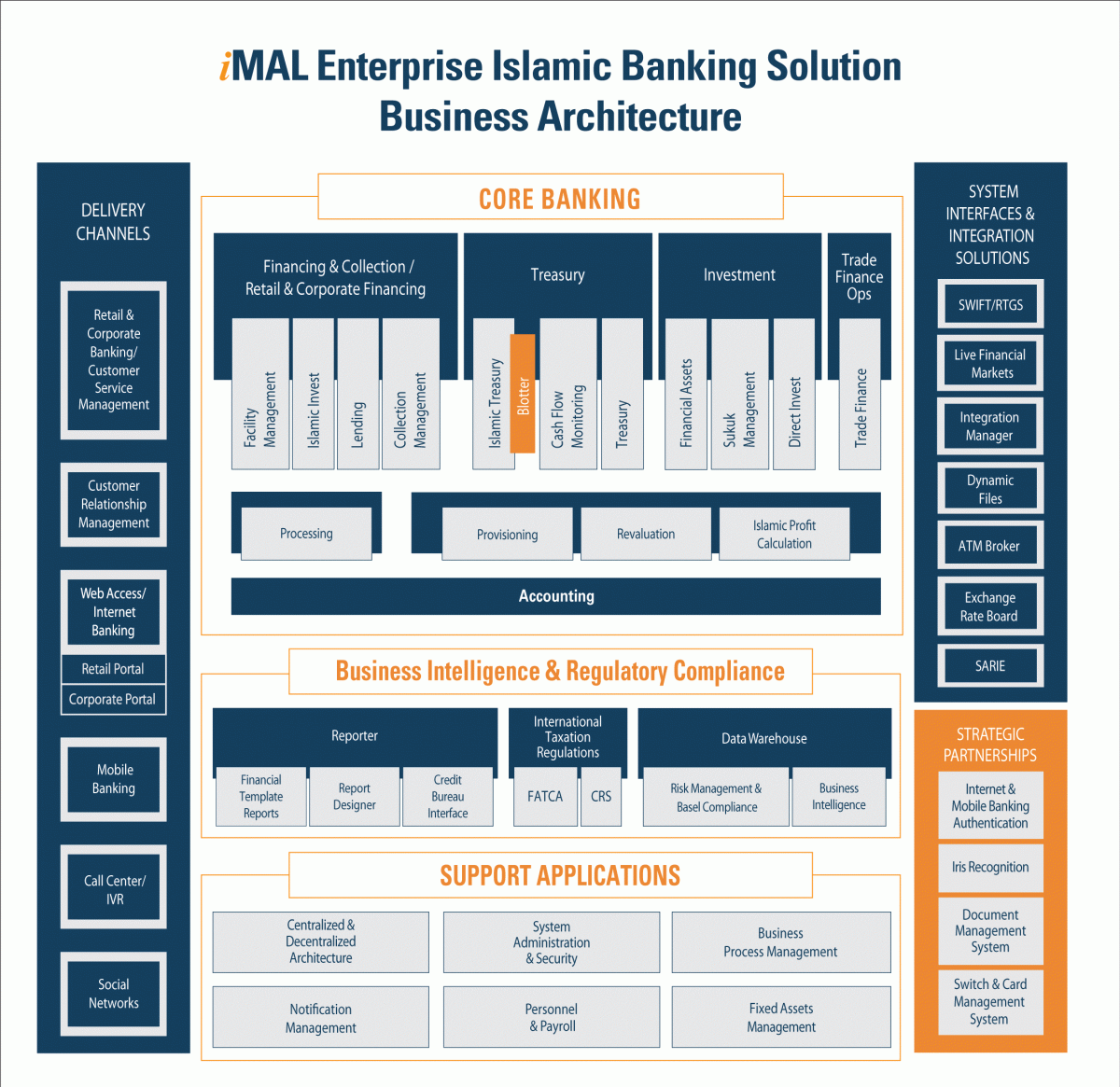 Who needs the System?
iMAL Enterprise Islamic Banking & Investment System is a trusted core banking system used by major Islamic banks across the globe. iMAL instantaneously meets the needs of Islamic banks based on a cutting-edge open and flexible architecture.
iMAL is ideal for high-end Islamic banking, investment and financing institutions that have an urgent demand for solutions with built-in Sharia-compliant workflows.
What other features are relevant?
iMAL combines comprehensive business functionality with an advanced, secure, scalable and modular architecture proven to meet the market toughest challenges of today and tomorrow.
The following points illustrate iMAL's key strengths and features:
Supports all known Islamic banking instruments
Web interface, N-Tier Java based, SOA architecture
With high parameterization capabilities; greater process efficiency, better risk mitigation
Multi-currency, multi-branch, multi-company enabled accounting backbone
With strong product definition features
Fully integrated yet modularized, with Model Bank
Highly automated and flexible system
Ensures quick time to market products
Employs multi-tier architecture using the latest JAVA technology with either Oracle or SAP Sybase as core database servers
Provides sophisticated data protection and high-speed access to information
Cloud-ready and deployable on a fully scalable, multi-server n-tier architecture
Fully integrated front, middle and back office Islamic core banking system
Runs 24/7 in real-time
360° view
Runs on all the main platforms and operating systems
Compliance with Basel II/III & AML.
More benefits of the solution are listed below:
iMAL enables Islamic financial institutions to achieve the following:
Built-in Islamic operations standard compliant workflows and system controls
Various delivery channels
Faster time to market
Exact fit to business requirements
Phased migration and implementation approach
Running businesses in real-time mode
Higher operational efficiency:
- Single integrated platform for all banking activities
- Flexibility to meet change and growth requirements
- Cost reduction by implementing STP
- Optimized business performance
Superior customer service
Efficient speed of service
Precision of documentary cycle
Electronic reconciliation (quick notices)
Prompt dispute resolution: Legal, collection, valuation, procedures, etc.
What are the reporting capabilities?
One of the vital features of iMAL is flexibility in reporting. iMAL is based on Jasper Reports for web modules that provide variety of reports formats (HTML, PDF, WORD, EXCEL, TEXT, etc.). It is important to emphasize that reports are independent from iMAL modules and can be imported to iMAL easily via iMAL*Reporting modules. For Business Intelligence (BI) Microsoft Objects is used for advanced reports.
What is the pricing model?
The pricing model of the solution is based on the modular capability available in iMAL core banking system. Correspondingly, each module is priced separately providing a flexible costing structure to accomplish the goals of financial institutions. Financial institutions can tap pricing options according to their preference:
Full suite of modules
Product based configuration of core modules
Development of a flexible branch deployment strategy
Embedded quantity discount brackets.