CreditHQ – Assessing Credit Rating and Payment Performance for SMEs and their Customers
CreditHQ is an online tool developed by Ormsby Street that helps small and medium businesses to evaluate the creditworthiness of their trading partners and manage their own credit reputation. Usually, credit and payment information can be hard to sift through and make sense of, but CreditHQ carries out the data analysis for you and also provides insight based on that analysis to help with the business decision making. Indeed, the tool can even assume the role of trained financial staff by carrying out tasks such as market data collection, analysis, monitoring of and liaison with the companies being assessed, and even the filing of legal documents. The big advantage with this solution is that it's very user friendly and has a straight forward layout that a business small business owner can understand at a glance.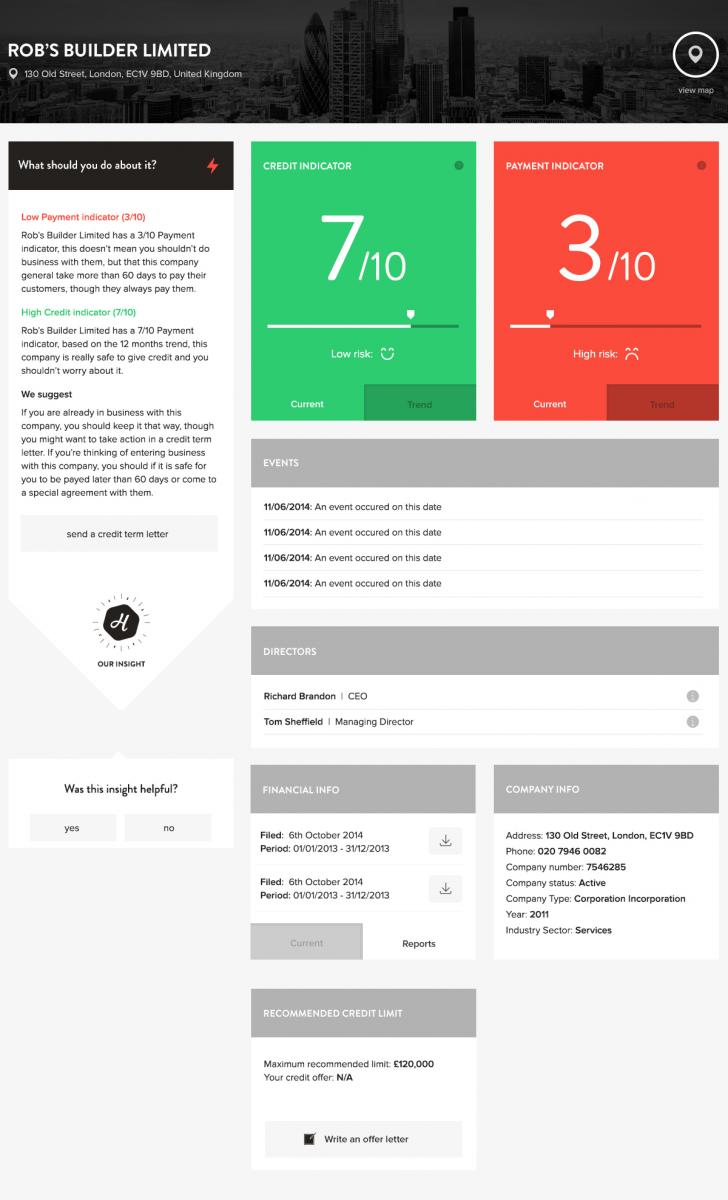 Through the lens of CreditHQ, companies can get a deeper insight into the financial situation of certain businesses while efficiently handling their own credit rating in comparison to other market players. The biggest benefit of the solution is the feature that allows you to monitor the selected companies in a Watchlist and so be aware of any changes in their status. Technically the tool aggregates all the credit data provided by Experian which has a record of credit performance for 6 million companies specifically in UK. Based on this data, CreditHQ's indicators signal a certain score for a company, along with recommendations on how to reduce the business risk in light of changing credit and payment data. The recommendations might be in the form of a call to action with regard to that specific company, or general tips on cash-flow and credit management.

Understanding difficult and complex financial data becomes very easy with the help of CreditHQ and its simple traffic light system. The credit scores work on the principle of traffic lights where green indicates the best financial situation with low risk and good payment performance. Another valuable feature of the tool is cross channel user experience, and business leaders can use CreditHQ wherever they are as it supports all the devices available on the market today.

There are two types of subscription available to users - one free and one paid. Depending on the company's goals both subscriptions can do a very good job in reducing its financial risk. Under the free subscription, users can still analyse the credit and payment data, but the paid version provides more detailed description including the number of days for payment delays, as well as a deeper insight into the credit performance metrics. Additionally, users can track the records of a company's legal activity, view negative credit events and find out information about ownership of the company. The impartial transparency provided by CreditHQ will also begin to serve as motivation for organisations to clean up their credit scores and address any poor payment performance.

Despite only being launched recently, CreditHQ has already developed into a popular tool for small businesses across Europe who want to protect themselves against late payment in a highly cost effective way. An upcoming development for CreditHQ will involve the integration of a new risk management feature. The team behind CreditHQ plan to integrate it with cloud accounting services such as Sage and Intuit, enabling companies to input all their large invoice data into CreditHQ and scope out business risks on a larger scale, ensuring CreditHQ delivers even more value to its small business users.