CASHBOOK: Kick back. Relax.
What is the solution?
Since 1992 CASHBOOK has gained tremendous experience in building intelligent cash management software solutions that maximize the automation of high volume transactions. The company offers a wide mix of finance and technology expertise enabling automation of high volume financial transactions for large organizations all over the world.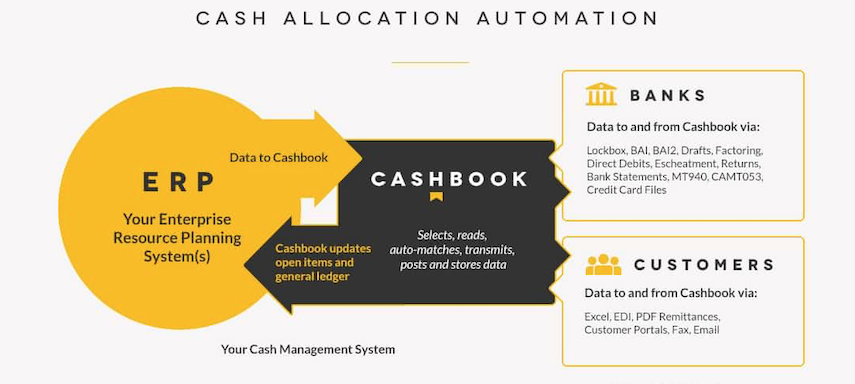 Source: CASHBOOK
What is the demand for the solution?
Oftentimes cost allocation is a manual and time-consuming process that requires extreme level of accuracy. High volumes of transactions, poor bank data, multiple payment types, or a general lack of information makes an already challenging task even more complicated. Thus, the need arises for more sufficient solution. At this point, CASHBOOK's Cash Allocation Automation Software can streamline the process, making it more efficient.
What does the solution do?
Regardless of the ERP or bank Cashbook saves time and money by eliminating the need to divert resources to manual cash allocation. It streamlines the process, reduces manual work, re-allocates resources, increase customer satisfaction, and improves organizational productivity.
Cash allocation software modules:
Bank statement automation

Direct debits automation

OCR Lockbox automation

Lockbox automation

Factoring automation

Deductions automations

Customer remittances automation

Draft automation & management
Key features
· It automates cash allocation from start to finish, working in unison with a client company's ERP system, its bank, and customers.
· It has the capability to auto-upload bank statements and supplement that information with customer remittance data regardless of the format that is delivered.
· It can read Inter-Company payments, PDF remittances, EDI files, Excel, Paper remittances data and use its flexible auto-matching tools to provide a comprehensive cash allocation process that can be deployed globally.
· Having a linked cash allocation and bank reconciliation process will provide new levels of automation that will be a paradigm shift for any finance department.
For more information visit: www.cashbook.com