03 Oct, 2013

09:00 am

White Papers
A large number of Financial Institutions in India are waking up to a new era of financial reporting submission to Reserve Bank of India (RBI).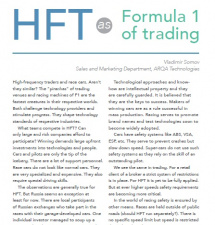 10 Jul, 2012

08:00 am

White Papers
High-frequency traders and race cars. Aren't they similar? The "piranhas" of trading venues and racing machines of F1 are the fastest creatures in their respective worlds. Both challenge technology providers and stimulate progress.
16 Apr, 2012

08:00 am

White Papers
About a year ago ARQA Technologies started to introduce the broad possibilities of pre-trade checks developed within its trading platform QUIK to clients abroad.