QUIKest pre-trade solution - risk control for broker-dealers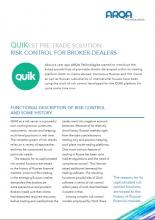 About a year ago ARQA Technologies started to introduce the broad possibilities of pre-trade checks developed within its trading platform QUIK to clients abroad. Numerous Russian and CIS clients as well as Russian subsidiaries of international houses have been using the tools of risk control developed for the QUIK platform for quite some time now.

QUIK as a risk server is a powerful tool working across currencies, instruments, venues and keeping multi-level positions in real time. The versatile system of risk checks relies on a variety of approaches and may be customized to suit particular needs.

The reasons for its sophisticated risk control functions are traced to the history of Russian financial markets. Since mid 90-s trading in the emerging Russian market demanded that brokers be extra precautious and prudent. Brokers made sure that clients had deposited required resources before trading and watched lest the trades went into negative account balances.
Other White Papers