Ant Financial to Launch Real-Time Nasdaq Last Sale Market Data Service for U.S. Listed Securities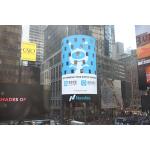 Ant Financial to Launch Real-Time Nasdaq Last Sale Market Data Service for U.S. Listed Securities
Nasdaq (Nasdaq:NDAQ) and Ant Financial Services Group (Ant Financial) today announced that Nasdaq Last Sale (NLS) real-time data is now available to the millions of Ant Financial clients through the Alipay and Ant Fortune apps. NLS provides a real-time and comprehensive view into trading activity in all Nasdaq U.S.-listed equity securities.
Businesses operated by Ant Financial including Alipay, Yu'e Bao, Zhao Cai Bao, Ant Micro Loan, Sesame Credit and MYbank now have access to reliable and accurate real-time, intraday U.S. trade data. By partnering with Nasdaq, Ant Financial has the ability to create dynamic stock tickers, portfolio trackers and time/price graph products for public use through its applications and websites. Nasdaq will aid Ant Financial in providing the Chinese investing public with quality U.S. equity data.
"Ant Financial, through its vast business networks, connects tens of millions of Asian consumers who demand access to high quality, real-time market data from the U.S.," said Salil Donde, Executive Vice President, Nasdaq Global Information Services. "We operate in a global economy where every second matters, and our goal is to help Ant Financial customers make timelier and better informed investment decisions."
"Adding data from NLS provides our clients with access to the most reliable and accurate resources available," said Leiming Yuan, General Manager of Ant Financial's wealth management business unit. "Nasdaq is a trusted global brand and this deal allows us to continue to expand the Asian marketplace and open the door to a new world of investment opportunities."
Free Newsletter Sign-up