Hiperos Analyses Financial Institutions' Third Party Relationships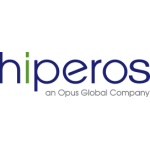 Hiperos Analyses Financial Institutions' Third Party Relationships
Regulatory SaaS technology leader Opus announced today the results of a survey conducted by Hiperos, its market leading third-party management platform, during its 2nd Annual Financial Services Regulatory Knowledge Forum. The Third-Party Risk Management event, held in Washington DC in March, was an opportunity for over 150 senior managers of financial institutions to spend a day with regulators and industry experts on the topic of third party management. The attendees were asked four core questions, centered around compliance and the protocol for dealing with third-party suppliers.
The key survey findings included the following:
84% expect regulatory pressure for third-party management to increase in the next three years.
48% describe their leadership as only partially engaged in third-party oversight efforts.
58% categorize their organization's third-party oversight as well defined, but still settling in.
70% say their oversight protocol is applied consistently, but still settling in.
The survey results highlight the expectation among financial institutions in the US that know-your-third party regulation is on the increase. It is also clear that much is still to be done in getting to grips with the complexities of managing service providers. This is at a time when there are growing pressures both from inside businesses and from regulators to implement effective strategies and protocols for understanding and managing third-party relationships.
Mark DeLuca, SVP of Sales, said: "Third-party management is a complex task that has been attracting more oversight from regulators because of the risks these relationships bring to financial institutions. With the need to vet and manage thousands, or even tens of thousands of third party providers, technology is the only way to handle this task efficiently. The senior level of attendees at this event is indicative of the seriousness with which corporate America now views their third party risks. I was pleased to see such a productive and informed group engaged in discussing the current risks and solutions."
The annual event is designed to provide senior executives with a forum for discussing regulatory developments and expectations over the next 12-24 months. It also provides a knowledge hub for identifying the key risk factors and risk indicators in managing third parties in the relationship lifecycle.
Free Newsletter Sign-up