Wells Fargo Securities Welcomes Alicia Reyes as Head of EMEA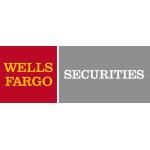 Wells Fargo Securities Welcomes Alicia Reyes as Head of EMEA
Wells Fargo Securities (WFS), the capital markets and investment banking business of Wells Fargo & Company (NYSE: WFC), announced today that Alicia Reyes has been named the new head of Wells Fargo Securities in Europe, Middle East and Africa (EMEA). She is based in London and jointly reports to Walter Dolhare, head of Wells Fargo Securities' Markets Division, and Rob Engel, head of Wells Fargo Securities' Investment Banking and Capital Markets.
Reyes has been a board member of Wells Fargo Securities International Limited since July 2015. Prior to joining the company as head of WFS EMEA, Reyes was a founding partner of Olympo Capital, an independent merchant banking firm serving leading private equity and hedge funds in Europe. Reyes previously worked at Barclays Capital where she was global head of FIG Structuring for the Investment Banking Division, global head of Insurance Solutions and head of Strategic Equity EMEA. Additionally, she has held senior positions at Bear Stearns and Deutsche Bank.
"We are pleased to have such an experienced leader join us to continue to serve our clients in this important region," said Dolhare. "Alicia's 20 years of industry experience with both issuers and investors coupled with her widely recognized leadership skills makes her an excellent fit to lead our EMEA platform."
Engel added, "Alicia's extensive experience in investment banking, proven leadership and strong client relationships across EMEA will help us continue to grow our business across the region."
Reyes holds a double degree in Law and Economics and Business Administration as well as a Ph.D. in Quantitative Methods and Financial Markets Program from Comillas Pontifical University.
Free Newsletter Sign-up