SNIA Europe Names Daniel Sazbon as New Chairman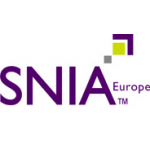 SNIA Europe Names Daniel Sazbon as New Chairman
The Storage Networking Industry Association (SNIA) Europe today announced the appointment of Daniel Sazbon as the new chairman of its board of directors. Daniel, who assumes this voluntary role in addition to his existing position as storage infrastructure sales director Europe at IBM, takes over from Bob Plumridge, who will continue to be an active member of the association's board of directors. With over 30 years' experience in the storage industry, Daniel has been a member of the SNIA Europe board of directors since 2004.
SNIA Europe plays a pivotal role in the storage industry: it provides unbiased, vendor-neutral expert information and educational materials on a wide range of technologies and topics related to data storage such as flash, tape, persistent memory, software-defined storage, big data, cloud storage and data protection. Through its regional chapters such as SNIA Europe, SNIA, the global organisation, includes a number of technical workgroups and promotes industry standards and best practises, while offering training courses and certification through its many committees.
In order to meet the educational needs of the EMEA storage market, SNIA Europe works closely with both end users and vendors. Daniel's extensive knowledge of and experience in a vast range of storage markets make him a very strong leader of the association. During his career he has successfully managed a number of teams and worked with end users, technology partners and the channel, focussing on areas such as storage optimisation, data protection and networking. This track record gives Daniel an all-round understanding of the issues faced by different parties in the storage industry.
Of his new assignment, he says "I have been involved with SNIA Europe for more than a decade, and I am excited about taking on such a critical position on the board. I would also like to thank Bob for his immense contribution in recent years to SNIA Europe. The association plays a very important role in educating and advancing the storage industry from a vendor-neutral perspective and I'm proud to be part of an institution that will continue to help the storage industry into the future with the deployment of key object-based models such as Swordfish."
Bob Plumridge says "I have served SNIA Europe as chairman for nine years and I'm very pleased to hand the reins to Daniel. I will still hold an active role as part of the board, and I'm confident that the association will continue to flourish under Daniel's strong leadership."
Free Newsletter Sign-up