GLAS Strengthens UK Direct Lending Team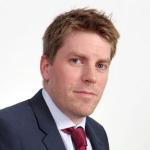 GLAS Strengthens UK Direct Lending Team
GLAS, the leading independent provider of finance administration services, has appointed Joe Knight to spearhead the expansion of the firm's existing Direct Lending platform. Joe will have responsibility for business development and developing strategic relationships with GLAS' existing direct lending client base. The move comes as funds increasingly replace banks in the lower to middle market transactions, leading to an uptick in demand for independent agent and trustee services.
Joe is an experienced loan professional with over 15 years' experience in the syndicated loan market. Before joining GLAS, Joe was managing the London office of AgenSynd. Prior to joining the Spanish outfit, Joe spent six years as an associate director at Lloyds Banking Group working in the loans agency team.
Joe commented: "Given that GLAS is fast becoming the market leader for direct lending in the UK and beyond, I could not resist the opportunity to join the team and continue to develop the existing platform. It is clear that banks are struggling to provide these services in a nimble fashion and this provides significant opportunities for GLAS. We are able to provide flexible and commercial solutions in a timely manner. Its unique proactive and commercially-minded approach, along with a broad skill set – including an in-house legal team – mean it is able to efficiently deliver on all the needs the market wants."
Mia Drennan, CEO and Founder, added: "I am delighted that Joe has joined GLAS, he has a solid track record and built a successful reputation in the industry and firmly understands our clients' needs. Joe will further strengthen our direct lending capabilities. We've seen steady growth already in 2016, with offices opening in the US, Asia and Australia. I can't wait to see what 2017 has in store."
GLAS offers a wide range of administration services to lenders, borrowers, issuers and advisers across the loan and debt markets, specialising in direct lending, complex restructurings of loans and bonds.
Free Newsletter Sign-up