Former Huntington National Bank Executive Joins Accurate Group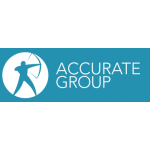 Former Huntington National Bank Executive Joins Accurate Group
Accurate Group, a leading provider of real estate appraisal, title and compliance services, today announced that it has hired former Huntington National Bank executive, Mike Kirk. Mike joined Accurate Group effective June 13, 2016 as Senior Vice President of Strategic Valuation Initiatives and will report directly to CEO and President, Paul Doman.
Demand for home equity, purchase and refinance mortgage loans remains strong, and Accurate Group has capitalized on that demand by delivering consistent growth over the past five years. The addition of Mike's expertise in banking and mortgage will help further accelerate revenue growth and solidify Accurate Group's position as a market leader in real estate appraisal and valuation products and services.
"Mike's focus will be to open new doors for Accurate Group using his unique relationships within the banking and real estate finance industries, while working in conjunction with the sales team to drive revenue across our real estate appraisal division," stated Paul Doman. "Mike will also help us expand and strengthen our relationships with regulators and key stakeholders in the appraisal and mortgage lending communities. We have an incredible opportunity to introduce our ValueNet™ suite of products – currently the leader in home equity valuations – into the mortgage appraisal space and Mike is perfectly suited to help us achieve that goal."
"Having been a client of Accurate Group in the past, I know that the company has emerged as a market leader in appraisal services due to its unique focus on technology and process innovation, as well as compliance, which has brought some disruptive thinking to the industry," stated Mike Kirk. "I'm excited to join the organization and look forward to helping Accurate Group further accelerate growth, identify new business channels and continue its track record of developing next-generation valuation solutions."
As an established market leader in real estate valuations, Accurate Group continues to attract outstanding talent and expand at a rapid pace. This move will allow Accurate Group to further diversify its customer base, increase market share and continue to deliver exceptional service to its growing client base of banks, credit unions, mortgage servicers and real estate lending organizations.
Free Newsletter Sign-up