Delta Financial Systems Appoints New Chief Financial Officer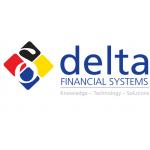 Delta Financial Systems Appoints New Chief Financial Officer
Delta Financial Systems ('Delta'), the leading pensions and retirement administration technology provider, has announced it has appointed John Watson as its new Chief Financial Officer.
Following the appointment of Mike Robins, previously Head of UK at 3i plc, as Chairman of Delta in December 2015, John's recruitment represents a key addition to Delta's business expansion plans and the accelerated delivery of its new Platinum~Pro technology platform. John will be responsible for driving Delta's financial strategy as well as all areas of finance, HR and operations.
"John's arrival at Delta is particularly timely as we mark the first anniversary of successfully re-platforming our market leading products, SIPP~Pro and SSAS~Pro, onto Platinum~Pro," said Michael Power, Chief Executive Officer, Delta Financial Systems. "As well as consolidating our position as the UK's leading provider of pension administration technology, John will help with our expansion into the rapidly growing lifetime savings markets. He brings with him a wealth of experience and significant domain knowledge that will enhance our customer proposition at a time of increasing business complexity within our marketplace."
John Watson commented: "This is an exciting time to be joining Delta's board at a pivotal moment in the company's development and growth. I have known and worked with Michael and the Delta board for a number of years and have closely followed their investment and successful development of the new Platinum~Pro platform which promises to be transformational in delivering operational efficiencies for our clients. Together with the rest of the board, I look forward to driving the business forward to maximise the potential of Platinum~Pro."
John Watson has strong financial services experience, having been UK Group Finance Director for IFG Group plc from 2000 to 2015, during which he helped lead the acquisition of James Hay from Santander. John sat as Finance Director for all of the Group's regulated businesses, including James Hay and the prestigious City-based IFA Saunderson House. He was most recently Chief Operating Officer for the regulated part of Equiniti, including Selftrade.
Free Newsletter Sign-up