Codec-dss Introduces Flexible And Future-Proof Solution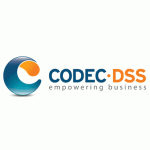 Codec-dss Introduces Flexible And Future-Proof Solution
As one of the top IT services companies in Ireland, Codec-dss is well-used to solving the business challenges of other firms. The growing success of the award-winning Microsoft partner has introduced some logistical challenges of its own, specifically around the introduction of satellite offices away from its main Dublin headquarters.
Codec-dss recently established an office presence in Belfast, and the business turned to workspace provider Regus for a flexible and future-proof solution.
Northern Ireland Sales Lead Barry Mclean was responsible for setting up the Belfast site, with a city-centre location high on the list of priorities. Barry comments: "Initially, we operated from one desk in a shared office in Belfast. Continued success and a growing team meant that this temporary arrangement quickly became unsuitable, so I began the search for a space that would serve us now, and into the future.
"We wanted to be in a serviced office so that all of the back-office administrative and IT considerations were taken care of, leaving us to focus solely on developing the Belfast side of the business. Location was critical for two reasons – we wanted the site to be easily accessible for clients and we wanted to be in a part of the city that would be attractive to future employees".
Codec-dss became the first occupant of the new Regus workspace is Belfast's buzzing Cathedral Quarter, and the company now has 5 employees working out of this site.
Barry continues: "There is a growing buzz around the Cathedral Quarter and many of the city's entrepreneurs and start-ups are located here. We are also very near the University – right on the doorstep of the city's top job-seeking talent.
"A number of businesses in the IT field allow employees to work from home but that option doesn't establish a team ethos. We wanted a fresh and innovative space where we can build a team ethic and develop organically.
"Regus makes things so simple and its flexible workspace model has enabled us to get a small team established rapidly and provided us with the capacity to expand when required. We regularly make use of boardroom space in the hub to run our own events or to host customers. We simply book this additional space on an as-needed basis."
Codec-dss announced its investment in Northern Ireland in June 2016 with the intention to create 10 new jobs by March 2018. This investment was supported by economic development agency Invest Northern Ireland.
Steve Harper, Invest NI Executive Director of International Business said: "It is great to see Codec-dss reaffirm its commitment to Northern Ireland with this new office base as it continues its focus to grow business in the UK market. The new offices offer the necessary flexibility the company needs to support its expansion in the future."
Regus is the world's largest provider of flexible workspace solutions, with a network of 2,850 locations in over 1,000 towns and cities, across 107 countries, serving 2.3m members.
Through our range of office formats, as well as our growing mobile, virtual office, and workplace recovery businesses, we enable people and businesses to work where, when, and how they want, with a range of price points.
Our customers include some of the most successful entrepreneurs, start-ups and multi-billion dollar corporations.
Free Newsletter Sign-up