Factoring: A Powerful Tool in the World of Finance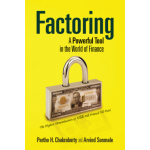 Factoring: A Powerful Tool in the World of Finance
Notion Press is extremely proud to present authors Partho Chakraborty and Arvind Sonmale who are creating waves in the finance sector with their book -
Factoring: A Powerful Tool in the World of Finance
, which is now available to readers all over the world!
https://notionpress.com/read/factoring#learnmore
The book is a perfect culmination of the efforts of two of the shrewdest financial minds in India. This book attempts to break the boundaries of classical factoring and change the way we see and use it. The factoring we see today can be considered the classical form of factoring or the vanilla type.

Customers these days are very discerning and want more than the vanilla type of factoring. Since companies and banks offering Factoring struggle to go beyond this, an endeavour to solve the problem is the basis for this book.

This book, divided into 3 parts, goes beyond the classical type of Factoring with a lot of examples and some live cases. It has pictures that are unique as it gives information on and traces our history on ancient monetary system. It is a must read for everyone and serves a reference point for modern Factoring.

Notion Press
has been the backbone of many authors' growth by providing them with its unique Author Incubation Program, which provides the right platform to get published and sell a number of copies in the market. It has been acknowledged by many as a very helpful tool to showcase their talent in this very challenging field of books and publishing.
www.notionpress.com
Author Arvind Sonmale is a career banker having been in the finance sector for more than 36 years. He has been with State Bank of India for about 10 years, with Export-Import Bank of India for 20 years and as the MD & CEO of Global Trade Finance for over 6 years.

Arvind Sonmale has in a sense been a pioneer in introducing International Factoring in India through his stewardship of Global TradeFinance (GTF) which had an 85% market share of international factoring in India. He was with GTF between 2004 and 2010 and during this period transformed this start-up factoring company into one of India's top factoring companies. GTF won the 1 st Prize in Marketing in 2006 awarded by Factors Chain International (FCI) amongst its over 200 members spread over 60 countries. He is an experienced practitioner of international factoring and has shared his large body of experience in this book for the benefit of those engaged in Factoring today.

Author Partho Chakraborty has over 20 years experience in Banking and Financial Services. He is an expert in transaction banking, consulting and business development and has extensively advised banks and corporates.
Partho Chakraborty has trained people in Transaction banking for over a decade and has worked in Pioneering Forfaiting and Commodity Loans Transactions. He was the ex-Representative of Standard Bank London Ltd and the Advisor to The South African Trade Desk. He has put up 18 papers in Slideshare and they can be viewed through LinkedIn also. Kindly use the link:
http://www.linkedin.com/in/parthohc
. Currently he is the CEO of Annona IT Solutions Pvt. Ltd. which is a Start-up in Supply Chain Finance providing innovative IT solutions. He holds a B.Sc. degree in Mathematics from Mumbai University and an MBA from Pondicherry University with First Class and he is a member of professional bodies such as Equinoccio, Guidepoint Global, etc.
Free Newsletter Sign-up