Diasoft is ranked one of the Top 100 Global Providers of Financial Technology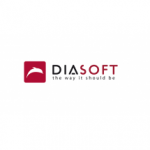 Diasoft is ranked one of the Top 100 Global Providers of Financial Technology
Diasoft, a leading provider of cutting-edge software solutions for financial institutions, announced its company's ranking in the IDC Financial Insights 2014 FinTech Rankings, an annual international listing of the top vertical technology vendors that derive more than one third of their revenue from this industry as named by IDC Financial Insights.
IDC Financial Insights 2014 FinTech Rankings Top 100 – is the ranking of the top 100 global application/service providers in the financial services market. Financial services includes the banking, capital markets and insurance industries.
The ranking of the top vendors is categorized and evaluated based on calendar year-end revenues and the percentage of revenues exclusively attributed to financial services. Data is gathered from surveys completed by vendors, as well as original research and market analysis conducted by IDC Financial Insights. The FinTech Rankings represents companies that derive at least 33 percent of their revenue from the financial services industry.
The prestigious recognition by IDC Financial Insights reflects Diasoft`s growth from innovative solutions and attests its stability and importance to the industry.
"It is a honor for us to be listed among world`s leading financial industry players", said Alexander Glazkov, CEO, Diasoft. "The year 2014 was a year of rapid growth for Diasoft, and IDC Financial Insights' 2014 FinTech Rankings prove company`s leadership in the global financial market. I am confident that our innovative solutions and technological breakthroughs will allow us to further strengthen our position in this sector".
In 2014 year Diasoft has strengthened its position within global markets through delivery of several projects in the Asian Pacific region. Additionally this year Diasoft has joined the Banking Industry Architecture Network (BIAN) an independent, member-owned, not-for-profit organisation, which, in collaboration with industry participants, aims to define and set the software standards for banking interoperability services. The network focuses on creating a standard semantic banking services landscape. Through membership of BIAN, Diasoft obtained a strong network, through which to exchange information and knowledge and help drive banking innovation and participate in the development of banking technology standards. Diasoft has assessed FLEXTERA to fit BIAN's approach to building banking architecture and componentisation of the solutions. By results of assessment FLEXTERA turned out to perfectly match to BIAN`s financial services landscape.
"The IDC Financial Insights FinTech Rankings is a critical means by which our institutional clients assess their technology partnerships," said Jerry Silva, Director of Global Banking Research for IDC Financial Insights. "Having a prominent position in the 2014 FinTech Rankings conveys a strong commitment to and significant success in bringing effective technology solutions to the financial services industry."
With a strong commitment and continuous investment into further development of its products and a well-through international strategy, Diasoft successfully improves its financial and business viability, extends its global presence and remains a dynamic leader in a very competitive environment.
Free Newsletter Sign-up