13th New Age Banking Summit to be held in Qatar in February 2020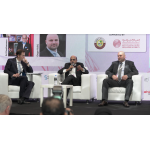 13th New Age Banking Summit to be held in Qatar in February 2020
The 13th edition of the New Age Banking Summit, a leading platform for the banking and fin-tech sector in the Middle East, will be held in Doha, Qatar, on February 12, 2020, with participation of nearly 200 bankers and technology leaders.
Qatari banks remain highly profitable, with a rising customer deposits, assets and loans and advances. However, challenges and risks remain.
Innovation and forward thinking remain key factors for financial institutions, caught between an uncertain world economy, fast digitization and growing costs.
Revenue and profit generation, business growth, financial resilience and shareholder value are among other key imperatives. The 2020 edition will thus look at the future of lending in Qatar and provide knowledge and networking platform to help lenders devise strategies and leverage ever-changing banking ecosystem.
With Qatar likely to introduce VAT, how will the banking industry navigate this challenge?
The summit will also address critical developments in the banking sector in Qatar and the wider Middle East, particularly in credit quality, financial markets, regulatory cooperation, RegTech, Fin-Tech, block chain, cybersecurity, AI, Islamic finance and anti-money laundering efforts. In its previous editions, NABS has identified future patterns transforming the industry and fueling innovation, thereby staying ahead of the curve.
The 13th edition of the event in Qatar will bring together thought leaders and industry experts who will share case studies and strategies and the next practices in latest technologies.
NABS Qatar Awards will recognize and celebrate outstanding achievement and contribution to the banking and financial industry. They are aimed at honoring organizations that have consistently demonstrated exemplary performance. These awards set a standard of excellence that is held in high regard.
The NABS Awards will not just recognize the endeavors of the most successful organizations, but also set a benchmark, inspiring other banking and financial institution to attain excellence.
More details on: http://newagebankingsummit.com/qatar/
Free Newsletter Sign-up