Web Shield & iSignthis to Deliver Unified Legal Entity & UBO KYC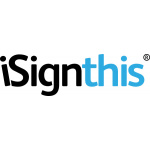 Web Shield & iSignthis to Deliver Unified Legal Entity & UBO KYC
Australian Securities and Frankfurt Stock Exchange cross listed iSignthis Ltd (ASX : ISX / FRA :TA8), the global leader in RegTech for identity verification, is pleased to announce that it has executed an agreement to integrate its Paydentity™ UBO Service with Web Shield Ltd's InvestiGate platform.
Web Shield is a world leader in Know Your Customer Corporate/Business (KYCB) Customer due diligence services, which focusses verifying legally incorporated entities, corporations, clubs, trusts and associations. Each of these entities will ultimately have one or more natural person behind them, who also needs to be identified and verified. The InvestiGate platform currently identifies the natural person, but does not incorporate KYC services that can verify the individual natural persons who comprise the Ultimate Beneficial Owners (UBO), Persons of Significant Control (PSC) or directors of the entities being subjected to due diligence by its customers.
iSignthis integration to Web Shield's platform will allow InvestiGate customers to also benefit from the unique Paydentity™ KYC Solution, whereby the unification of KYCB and KYC individual will be a world's first to offer complete end to end customer due diligence services automatically. Verification of natural persons has until now been a largely manual process, that requires extensive time and persistence to complete.
Web Shield is an official MasterCard Merchant Monitoring Service Provider (MMSP), and serves the global market of acquiring banks and payment service providers. Web Shield currently serves over 140 clients all around the globe, with their current customer base mainly in the US, UK, Europe and the CIS countries.
"We saw the exceptional work done by iSignthis on Paydentity™ and instantly knew that we had to integrate it into our InvestiGate underwriting platform," said Web Shield CEO and Founder Christian Chmiel. "This partnership provides our customers with another valuable tool to mitigate risk in their merchant portfolio. Whilst Web Shield has been a global company from the beginning, the ideas behind its solutions were first developed in the Compliance departments of Germany's expanding merchant acquirers of the late 2000's. Today, Web Shield counts the majority of Germany's international acquiring business and globally-minded payment service providers among their customers – which was one of the deciding factors for moving its headquarters to Leipzig in 2015."
iSignthis CEO John Karantzis said, "We are delighted to be delivering wholesale identity services to Web Shield. Paydentity™ solves the verification problem of UBO/PSC's globally, and together with InvestiGate, forms the worlds most advanced customer due diligence platform, targeting natural and legal entities. The partnership with Webshield is strategic, allowing iSignthis to deliver core product into an adjacent market sector, as well as establishing a means to penetrate the German market."
John Karantzis further said "The 4th Anti-Money Laundering Directive (4AMLD) now includes a requirement to verify UBO's and PSC's typically after they have been identified as being associated with an entity by Webshield or other means. This is a new requirement that incorporates AML regulated sector businesses including marketplaces, trading sites, payment service providers, acquiring banks, and law and audit firms. Verifying the UBO/PSC, which is a new requirement under the 4AMLD, would take several days effort, and it can now be done in less than five minutes. This revolution in cost reduction and time saving is made possible by the Paydentity™ solution."
Since the 2011 Financial Crises US banks alone have incurred compliance fines of approximately US$119 Bn whereas the total global market for KYC for business compliance is thought to be US$70Bn (Source ASX : KYK)
Free Newsletter Sign-up