Avaloq-Digital Transformation and Automation of the Financial Services Industry
Avaloq-Digital Transformation and Automation of the Financial Services Industry
04.07.2019 08:17 am
An Interview with Juerg Hunziker, Group CEO at Avaloq.
Financial IT: Can you tell us more about Avaloq your background?
Juerg Hunziker: Avaloq is a leader in core banking software, digital banking and digital wealth management. 25 years ago we started with On-premise software, today we are a true leader in Software-as-a-Service and Business-Process-as-a-Service solutions for financial institutions such as retail banks, private banks and wealth managers. While the firm's client base remains predominantly in Switzerland, Germany, UK and increasingly other European jurisdictions, Avaloq has successfully broadened its footprint to Asia and Australia and the momentum in these markets is escalating. We now have over 160 clients and our systems manage in excess of $4 trillion in assets. We are seeing significant growth across all our regions and our latest annual results attest to this with group revenues up 6% to CHF 579 million.
One of the many things I am particularly proud of is our ability to successfully complete projects of vastly different sizes and scope, from the complete digital and processing transformation of Raiffeisen's network in Switzerland to more specific solutions for time-boxed projects at banks like KASIKORNBANK in 10 months and Intesa Sanpaolo in nine months.
We are continuing on our strong growth trajectory going forward and are focused on further international expansion capitalising on innovation.
What are some key moments about Avaloq and its mission?
Juerg Hunziker: In essence, our focus is to be able to execute large projects, but also very lean projects. For a lot of banks and start-ups, cost control is a key focus and at Avaloq we are constantly dealing with projects with very short timeframes and a strong time urgency to getting to market. A significant landmark for us is our work with Raiffeisen Switzerland. This project was the largest in Avaloq's history and is a milestone in the timeline of both the company and also the financial sector. To date, no other fintech and software company has succeeded in migrating 253 banks to the same platform not disrupting a daily workflow of more than 3 million clients and more than 2 million payments a day. Without a doubt, this shows we can scale and repeat, and more importantly we can do this on an international level.
Last year we announced a deal with IBM to develop the Swiss Banking Cloud which will transform Avaloq's IT service delivery model leveraging IBM's Infrastructure as a Service (IaaS) offering. Looking ahead, cryptocurrencies, the roll out of Open Banking and the implementation of PSD2 are major opportunities for Avaloq and its clients.
How does Avaloq differentiate itself in today's marketplace?
Juerg Hunziker: The wealth management space is a very important one for us. Our intrinsic understanding of the types of problems banks and wealth managers face is key. For us it is now very apparent that becoming a part of the customers' journey for banks and wealth managers as early as possible is key to ensuring their future seat at the table. Key to this means a strong focus on technology which we are heavily invested in and also the ability to mine and efficiently use client data to meet and anticipate their needs. Recently, one major bank, which we worked with, invested into digital channels but their customer base adoption rate was below 10%. So, we spoke about an analogy: would you buy a car because you like the GPS? No you wouldn't, but if you don't have it in, you won't buy the car. Similarly, customers expect the tools, but whether they are differentiating to win your customer or is especially investment, is another question. It's about trust, it's about keeping your customers safe. We process the data for you and you know that everything is in safe hands.
What are the emerging trends you see in the industry today and how does Avaloq address these new challenges and trends?
Juerg Hunziker: We recently held our annual community conference back in June and there has never been a more interesting time in the financial services industry than now. The industry is facing is at crucial cross roads. For us, we see the future or rather being consistently and organically future ready as being underpinned by the following trends:
A growing need for more sustainable digitalization guided by end customer experience

Utilizing cloud as an avenue for better industry standardization

Outsourcing as a long-term strategy and not just a cost cutting measure

Democratising wealth management by serving tomorrow's customers today

Data as king and key to getting to know your client
Going forward what are the major plans you have for Avaloq?
Juerg Hunziker: Looking forward, Avaloq's growth is underpinned by a robust pipeline. As an international leader in fintech and integrated banking solutions, we are exceptionally well positioned to help our clients succeed in their digital transformation. Being future ready, we are optimistic and remain committed to future proofing our clients and expanding our footprint.
More Interviews
Director, Product Management and Strategic Initiatives at Fiserv
Financial IT speaks to Trevor LaFleche Director, Product Management, Strategic Initiatives at Fiserv Financial IT: Trevor, could you please tell us more about Fiserv and about your background? Trevor LaFleche: First of all, let me start with Fiserv. Fiserv is one of the world's largest payments and financial technology providers. We have the... Read more »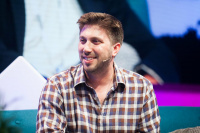 Financial IT speaks to Daniel Seal, Founder & CEO at Unbound. Daniel is a serial entrepreneur and the Founder & CEO of Unbound which bridges the gap between entrepreneurs, corporate business and governments to fuel a digital future. Daniel is a mentor & advisor to several leading startup accelerators around the... Read more »
Free Newsletter Sign-up