Improving middle office processes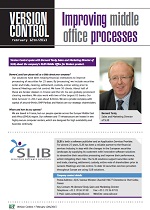 Version Control

11.02.2013

07:00 pm
Version Control spoke with Bernard Tardy, Sales and Marketing Director of SLIB, about the company's SLIB Middle Office for Brokers product.

Bernard, could you please tell us a little about your company?

Our solutions have been helping financial institutions to improve processing of securities for 25 years. By processing, we include securities order and trade, clearing, settlement, custody, online voting prior to General Meetings and risk control. We have 50 clients. About half of these are broker-dealers in France and the UK. Six are globally prominent clearing members. We also work with two of the largest US banks. Our total turnover in 2012 was about 20mln. We are a private company with capital of around 4mln. BNP Paribas and Natixis are our strategic shareholders.