How can banks transform client onboarding?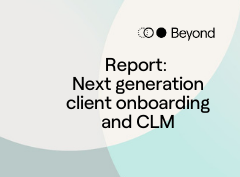 Reports

14.12.2020

05:53 pm
Client onboarding has become a key strategic focus for many financial institutions, driven by the need to reduce costs, increase efficiencies and manage risk. As the pace of change increases, it is critical to understand which initiatives banks should be prioritising in order to meet their goals.
At Beyond we believe that financial institutions need to address three strategic areas in order to meet these objectives:
Drive greater customer-centricity and better customer experience
Increase speed and efficiency throughout the client lifecycle
Reduce and manage risk in an 'always on' manner
However, how can financial institutions achieve these goals? What is the foundation that they need to put in place and which initiatives should they be prioritising?
Download our latest report to discover the steps financial institutions should be taking to successfully transform their onboarding for the future.
Read the report