Berenberg and Backbase make digital portal a reality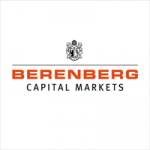 Berenberg and Backbase make digital portal a reality
Berenberg announces the launch of its customer-centric digital Wealth Management portal. This follows a successful pilot after working with Backbase to update its digital offering. This portal is a direct response to the growing demand from Berenberg's clients for a partner in Wealth Management capable of catering to clients across all channels.
Tobias Bodem, Senior Project Manager, Berenberg, said: "It's no secret that our current client base and even more, the next generation client base are expecting a mature digital offering, meaning their expectations of everything – ranging from investment choices to how we engage with them – is evolving. Through our partnership with Backbase, we had all the tools and skills required to develop a portal that puts the customer right at the center of the user experience. Users are able to access all the information regarding their portfolio wherever they are, from any device.
"But this doesn't replace personal interaction. It enhances it. With our portal, customers can get in touch with relationship managers and obtain the required information effortlessly via the client's fingertips" continued Bodem.
Berenberg will continue to move forward with its agile, user-centered methodology, utilizing the Backbase banking platform to further process client feedback in order to perfect its digital services.
Jouk Pleiter, CEO of Backbase, added: "Wealth management firms cannot ignore the benefits of digital services – those that are built with the client always front of mind. We are committed to bringing these innovations to life with our customers. Through our work with Berenberg, we've been able to develop a service that will enhance the unique relationship between its clients and advisers – via an omni-channel interactions which wasn't available before."
Free Newsletter Sign-up