BCA Research Expands Equity Trading Strategy to Global Coverage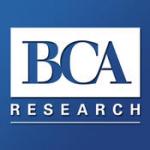 BCA Research Expands Equity Trading Strategy to Global Coverage
BCA Research, the leading provider of independent investment research, today announced the expansion of the firm's Equity Trading Strategy (ETS) to cover equity markets in the MSCI World Index. ETS is an equity analysis platform that ranks companies by analyzing a proprietary mix of macro, fundamental and market data to explain stock price performance and identify mispriced assets.
Originally launched for U.S. equity markets in December 2015, ETS combines BCA's thematic top-down macro research with fundamental and quantitative analysis to deliver a 360-degree view of a company from an investment perspective. The service provides analytics and accompanying research to explain the key drivers of share price performance.
"Since the initial launch of ETS, our clients have demanded that we expand our model to include global equity markets. We have listened and are pleased to announce the expansion of the service to cover all developed markets," said Bashar AL-Rehany, CEO of BCA Research. "We have seen a strong demand from the global investment management community for hybrid research offerings, which combine BCA's proven expertise in research and analysis with big data algorithms and analytics. ETS, as well as our research platform Edge, answer that demand by helping investors better understand markets, and make better investment decisions."
Led by Peter Berezin, BCA's Chief Global Strategist, ETS distills over 20 factors that have been proven to contribute to out-performance into a single metric – the BCA Score, which ranks and scores over 10,000 equities in terms of performance potential. The model is based upon over 20 years of academic research and professional application of stock market anomalies that contribute to successful investment strategies. According to back-testing by BCA Research, the top 10 percent of large-cap stocks by rank would have outperformed the S&P 500 by an average of 9.6 percent per year since 1995.
ETS continues BCA's strategy to expand its market leading macroeconomic framework into sector (mid) and single-name (micro) research, to deliver an independent, objective and integrated approach to investment analysis.
Free Newsletter Sign-up