Solfyre Shortlisted for Tech Trailblazers Awards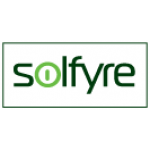 Solfyre Shortlisted for Tech Trailblazers Awards
Security
,
FinTech StartUps
,
Infrastructure
British cybersecurity pioneer Solfyre has been selected as a finalist in global startup awards scheme the Tech Trailblazers Awards, with recognition in multiple categories: FinTech Trailblazers, Mobile Trailblazers and the Firestarter Award for early stage startups.
Solfyre's secure login and password management app, designed for both consumers and enterprises, gained top scores from the judges for its hassle-free and straightforward alternative to password pain and associated vulnerabilities. Solfyre's mobile app SID encrypts a user's passwords, generating one time QR codes for two factor authentication – for a simpler and more secure login on desktops. You can vote for Solfyre in the FinTech, Mobile and Firestarter categories at http://www.techtrailblazers.com/shortlist/ until Friday 12th February 2016.
Craig Vallis, founder and CEO of Solfyre said, "We are delighted to be shortlisted as part of the prestigious global Tech Trailblazers Awards for our prime focus areas: Mobile and FinTech. At Solfyre we have recognised the importance that mobile devices play in our everyday lives by putting Mobile at the very heart of our Enterprise and Consumer Identity Platform, turning our mobile phones into our own personal Identity Servers. We utilise all the functions of the phone to enable users to reclaim their identities and the FinTech Industry has the most at risk in terms of identity assurance. Not only do we streamline the current tedious and time consuming process of logging into websites and mobile applications but we can offer partners additional assurance around their users by providing Biometrics and Behavioural measurements at login."
Rose Ross, Chief Trailblazer, said; "This year has been phenomenal again for startup talent and unsurprisingly the quality of the finalists reflects that. We have also seen previous winners go from strength to strength and we are looking forward to seeing who will be following in their startup footsteps. Our esteemed judges and the Tech Trailblazing team wish all the finalists the best of luck."
For more information on the Tech Trailblazers, please visit www.techtrailblazers.com, follow the buzz on Twitter@techtrailblaze, hashtag #TTawards or check out LinkedIn for the latest updates http://www.linkedin.com/company/tech-trailblazers-awards.
Free Newsletter Sign-up