Accuity unveils screening technology for transparent, traceable and auditable financial crime compliance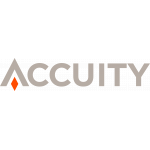 Accuity unveils screening technology for transparent, traceable and auditable financial crime compliance
Security
,
Data Protection
,
Fraud Detection
,
Compliance
,
Regulatory Standards
,
AML and KYC
Accuity, the global financial crime compliance, payments and KYC solutions provider, today announced the launch of its latest generation of transaction screening technology designed to help clients automate and gain an end-to-end view of their financial crime compliance screening so that they can demonstrate their compliance policy in action to regulators.
Tom Golding, MD, Risk and Compliance, Accuity, said: "Financial institutions are expected to know and show more and more about how their screening and decision making procedures work and the actions they took on every transaction screened. They need to be able to explain to regulators why and how decisions were made, often at a granular level of detail, and currently, this is a manual, costly and painful process."
The latest version of Fircosoft screening technology – Firco Continuity 5.9 - brings visibility and control to transaction screening, making compliance processes traceable and auditable at a more detailed and granular level. This new level of visibility – over all transactions in the screening systems and decision process - is coupled with improved system control and data integrity enhancements. For example, updating screening filters with the latest regulation will be easier and completely traceable.
Add these new developments to the existing machine learning capability, which allows the Fircosoft technology to learn from past decisions, and the result is a substantial change to transaction screening, with increased productivity, reduced false positive rates, as well as helping compliance teams respond to regulatory queries more efficiently and collaboratively - which ultimately drives down cost.
This launch marks a new phase in the development of our Fircosoft portfolio. The launch of Firco Continuity 5.9, together with the Firco Live Services capabilities being released shortly, will continue to build on these themes of control, efficiency and insight into compliance systems. Firco Live Services, which is coming in 2018, will provide clients with enhanced control of their compliance systems via dashboards of risk views and simulation environments that allow for configuration testing, optimisation and collaboration ahead of release to the live filtering environment.
Tom Golding added: "Our clients asked us for greater oversight of their transaction cycle. With this release, clients can understand what has happened to every transaction, whether risky or not; they can easily access evidence of their compliance policy in action and have the context to explain it to regulators. We see this as a big step towards helping our clients be regulator-ready."
Free Newsletter Sign-up