Monzo and Starling Among Account Switching Winners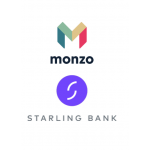 Monzo and Starling Among Account Switching Winners
Just five UK banks, two of them challengers, managed a net gain of customers in the third quarter of 2019, according to figures from the Current Account Switch Service.
Nationwide Building Society continues to have the largest net switching gain among the Current Account Switch Service's 49 participant, putting on 25,355 customers in the quarter. Digital challenger Monzo gained 21,576, HSBC 17,204, Starling 7,075 and tiny ethical player Triodos 409.

In contrast, Halifax saw the biggest net loss, shedding 15,714, with NatWest losing 9,885 and Lloyds 8,076.
Overall, Brits used the service to switch provider more than one million times during 2019, taking the total since launch in 2013 to 6.3 million switches.

Amongst those who completed a switch using the, service, over three quarters say they prefer their new current account, with online banking (48%) and customer service (47%) identified as the core improvements.

Awareness of, and satisfaction in, the service remained consistent at 80% and 92% respectively. Of those who switched using the service 82 per cent would recommend it.

Age continues to play a central role in switching behaviour. Over the past three years, of those who switched over the age of 45, 75% used the service, compared with 41% of those under 25.

Matthew Hunt, COO, Pay.UK, says: "Although switching figures are increasing, there are still many people who could be taking advantage of the opportunities presented by moving their current account. This is particularly true of those in younger age groups and those considered financially vulnerable.

"We work to bring the benefits of switching to all by making it easy and hassle free, allowing people to move to an account which works better for them, whatever their financial situation."
Free Newsletter Sign-up