SIA: The Board of Directors Appoints New Chairman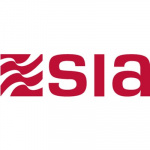 SIA: The Board of Directors Appoints New Chairman
SIA's Board of Directors, which met today under the Chairmanship of Giuliano Asperti, has coopted five new Members of the Board, designated by Cassa Depositi e Prestiti (CDP): Federico Lovadina, Andrea Cardamone, Fabio Massoli, Andrea Pellegrini and Carmine Viola.
During the same meeting, the Board also appointed Federico Lovadina as the new Chairman of SIA, taking the place of Giuliano Asperti who has resigned.
SIA's Board of Directors is thus composed of the following 11 Members:
Federico Lovadina Chairman
Massimo Sarmi Deputy Chairman
Nicola Cordone Chief Executive Officer
Andrea Cardamone Director
Alessandro Garofalo Director
Fabio Massoli Director
Andrea Pellegrini Director
Salvatore Poloni Director
Giacomo Riccitelli Director
Francesco Silva Director
Carmine Viola Director
The Board expressed their gratitude and appreciation for the work carried out with competence and professionalism over the years by Mr. Asperti and by the retiring Directors, and also extended a warm welcome to the new Directors.
Free Newsletter Sign-up