Kevin LoPrimo has Joined Cowen Prime as Managing Director – Head of International Prime Brokerage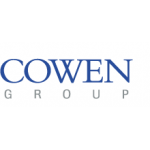 Kevin LoPrimo has Joined Cowen Prime as Managing Director – Head of International Prime Brokerage
Cowen Group, Inc. reported that Kevin LoPrimo has joined Cowen Prime Services ("Cowen Prime"), the prime services division of Cowen, as Managing Director – Head of International Prime Brokerage.
Mike Rosen, Managing Director and Global Co-Head of Prime Brokerage Services, said, "Cowen has been laying the groundwork for our entry into the prime brokerage and outsourced trading business in Europe for many months and we are pleased to welcome Kevin to our leadership team. We believe that his extensive international prime brokerage expertise will help accelerate the implementation of Cowen Prime's platform in Europe and Asia and the introduction of our comprehensive solutions to investment managers in those markets."
Kevin LoPrimo added, "Cowen Prime has built an impressive business dedicated to supporting a wide variety of investment managers, and has developed a strong reputation among its clients in the US for the breadth of its offering and the service level it provides. I look forward to working with the team and utilizing my many years of experience in prime brokerage to introduce Cowen Prime's platform to the international markets and inform investment managers of the new solutions that will be available to them."
Jack Seibald, Managing Director and Global Co-Head of Prime Brokerage Services, added, "The impact of enhanced capital requirements mandated by regulatory changes continues to curtail large prime brokers' ability to serve their hedge fund clients, and that trend has been very evident in Europe over the past year. This has created an opportunity for an upper mid-tier firm like ours to provide prime brokerage services to European hedge fund managers. We're excited to have a partner of Kevin's caliber leading this effort for us."
Mr. LoPrimo comes to Cowen Prime following nearly five years at Global Prime Partners, where he served as Managing Director, Head of Fund Services and Equity Finance. In this position, Mr. LoPrimo managed the creation of the first European-based Boutique Prime Broker that provided full prime brokerage services to hedge funds with assets under management of less than $200 million. Previously Mr. LoPrimo worked at UBS and Merrill Lynch in various prime brokerage roles. He began his career at Goldman Sachs International in 1983 and spent the next 19 years at the firm in various capacities, including prime brokerage client service in New York and Tokyo and ultimately in London, where he served as Executive Director, International Prime Brokerage Client Service and Product Development. Kevin holds an MBA from The University of Chicago Booth School of Business and a BBA from Pace University. He is located in Cowen's London office and can be reached at kevin.loprimo@cowenprime.com.
Free Newsletter Sign-up