Diginex bolsters European leadership segment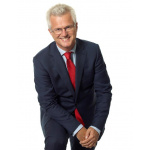 Diginex bolsters European leadership segment
Diginex, a blockchain technology and digital assets services and advisory company, has appointed Thibault Verbiest as Head of Regulatory Affairs for Europe & Africa. He will oversee the legal and compliance functions of the company in the region while managing its relations with regulators across those continents.
Mr. Verbiest is a specialist Fintech lawyer with two decades of experience in the field. He is the co-author of several books on fintech and crypto-finance regulation and he acts as a blockchain policy expert with both the European Blockchain Observatory and Forum and the World Bank. He also teaches blockchain and crypto-finance regulation at both the Solvay Business School and the Skema Business School.
Mr. Verbiest joins Diginex from DS Avocats, where he created a department dedicated to fintech, digital banking and crypto-finance. Before DS Avocats, he was a partner at Gaulle Fleurance where he advised the Belgian federal government on its policymaking approach towards the internet. More recently, he participated in the blockchain policymaking of the French government, which included working on the first draft of the PACTE crypto-assets legislation.
"We at Diginex are delighted to welcome Thibault to our rapidly growing team. His significant expertise will play an important role in the expansion of our company's footprint in Europe and globally. Thibault brings a wealth of insights into the regulatory status of blockchain technology and its market applications. He is rightly recognised as a leading legal expert in the fintech space," says Mr. Richard Byworth, CEO of Diginex.
"This is a very exciting time to be joining Diginex. It is one of the few companies, if not the only company, targeting institutional investors that is capable of bringing together a set of complementary products and services to realize the full value of distributed ledger technology within financial markets. Its rapid growth to date is testament to its institutional approach to enabling the adoption of these technologies, and to its expert-led team comprised of professionals from financial services, compliance and blockchain technologies, who I am looking forward to working alongside," says Mr. Verbiest.
Free Newsletter Sign-up