Cowen Group Names Steven A. Levy as Managing Director, Head of Financial Sponsors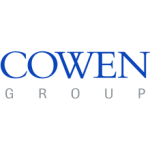 Cowen Group Names Steven A. Levy as Managing Director, Head of Financial Sponsors
Cowen Group, announced that Steven A. Levy has joined Cowen and Company's investment banking team as Managing Director, Head of Financial Sponsors. Mr. Levy is based in New York and reports to Kevin Raidy, Cowen's Head of Investment Banking.
"As Head of Financial Sponsors coverage, Steve will play a key role in enhancing Cowen's market presence across our core investment banking sectors," said Mr. Raidy. "Steve's experience as both an investment banker and business operator provides him with the perspective that allows him to connect with the sponsor community and their clients on a deeper level. We look forward to Steve's successes in advancing our equity, debt and advisory efforts with these important clients."
Mr. Levy joins Cowen from Stifel (formerly Thomas Weisel Partners), where he managed middle market financial sponsor relationships and led M&A execution for transactions in the consumer, industrial, technology and other sectors. Before that, Mr. Levy was the CFO of Delia's where he prepared the company to go public. Prior to that, he was a senior vice president in Lehman Brother's financial sponsors group. He also worked in SG Cowen's financial institutions group and started his investment banking career at CS First Boston. He received a BA from Binghamton University and an MBA from The Wharton School of the University of Pennsylvania.
Free Newsletter Sign-up