Bloomberg BNA Expands its Team with New Hires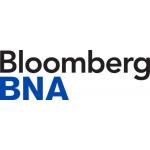 Bloomberg BNA Expands its Team with New Hires
Bloomberg BNA today announced that it has appointed Christina Correira as chief human resources officer and Dan Fine as chief operating officer. Both report to CEO and President Greg McCaffery.
Fine was elevated to chief operating officer earlier this month, having previously served as the company's executive vice president of strategy since 2013. In his new role, he is responsible for Bloomberg BNA's strategy, corporate marketing, information technology, facilities, and product support divisions as well as its McArdle printing subsidiary. Prior to joining the company, he was an investor focused on the media, technology and telecom industries, working for investment firms in Londonand New York City.
Correira joined Bloomberg BNA in February and oversees all areas of human resources, including talent acquisition and development, compensation and benefits, employee relations, labor relations and diversity and inclusion. She most recently served as chief human resources officer for government contractor USIS, where she led the global human resources and recruiting functions, in addition to supporting the company's executive leadership team in the areas of business strategy and policy.
"Christina is an excellent addition to our senior leadership team and has a track record of implementing programs and initiatives that enhance the value provided by human resources organizations," said McCaffery. "Dan has been instrumental in setting our strategic direction across all of Bloomberg BNA's business units, which has supported our successful execution as a company. I am confident that he will be an even more valuable contributor to Bloomberg BNA in his significantly expanded leadership role."
Fine has a Bachelor of Arts from Princeton University and an MBA from the Wharton School at the University of Pennsylvania.
Correira holds a Bachelor of Arts in International Development from The American University and a J.D. from George Mason University School of Law.
Free Newsletter Sign-up