Zapper and PayPal Join Forces to Provide Alternative Payment Option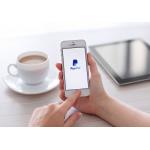 Zapper and PayPal Join Forces to Provide Alternative Payment Option
Payments
,
Infrastructure
Zapper, the fast growing global data insights platform enabled by mobile payment has partnered with PayPal, the renowned worldwide online payments system. The partnership will provide customers with an alternative payment option to quickly, securely and seamlessly pay their bill using PayPal's new One Touch™ Technology.
Zapper is innovative in its approach and always looking to partner with like-minded forward thinking brands. Using the newly developed and much hyped One Touch™ feature, which launched in August 2015, gives customers the option to settle their bill in seconds using their PayPal account within the Zapper app.
Zapper technology prints a unique QR code on the bill, which diners can instantly scan using the app to promptly complete their payment without having to wait for a card terminal. The diner can then easily add a tip or split the bill as desired followed by a rate and review option. The Zapper solution also captures valuable insights about its customers with each transaction. This data allows restaurants to build a personalised community and provide targeted alerts and offers to reward loyalty, thus encouraging multiple uses with the app.
Gerry Hooper, CEO of Zapper UK says, "PayPal has over 20 million active account s in the UK and this exciting new partnership is testimony to Zapper's growth to date and our united aim to provide simple transactions throughout many verticals. With over 70,000 active Zapper users and currently over 1,000 restaurant partners in the UK, we are thrilled to be one of the first mobile payment and insight apps to partner with PayPal in restaurants. It's a priority for us to be able to offer our Zapper users a variety of trusted payment options depending on their preferences to ensure a swift and snappy dining experience."
Rob Harper, Director of Mobile Commerce at PayPal UK says: "Giving customers choice coupled with making payments seamless are both elements we endeavour to deliver through PayPal. Zapper's pay at table offering addresses both needs and builds on the work we've been doing with our partners to make dining experiences more enjoyable when it comes to paying the bill. Whether it is by paying faster at your table without waiting for the card terminal or splitting the bill amongst friends, we are working with partners to enable choice for their customers and solve business needs at the same time."
Zapper already has thousands of restaurants using the system internationally. The Zapper app is free to download for Android, iOS and Windows Phone platforms. For more information about Zapper please visit: www.zapper.com
Free Newsletter Sign-up