IXOPAY and Finrax Take the CRYPTIC out of CRYPTO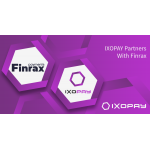 IXOPAY and Finrax Take the CRYPTIC out of CRYPTO
Payments
,
E-Wallets
,
Cryptocurrencies
The payment management platform IXOPAY is now connected to Finrax, an exchange and wallet provider for cryptocurrencies. eMerchants connected to the IXOPAY software platform will have the opportunity to use Finrax to accept payments from customers, issue withdrawals and pay vendor invoices with cryptocurrencies.
IXOPAY was developed to provide merchants with a flexible payment solution platform that adapts to their business needs. Its intuitive design offers intelligent routing, cascading and state-of-the-art risk management services, as well as centralized reconciliation and settlement functions that show a complete overview of all transactions. Its architecture allows for quick and simplified integrations with acquirers, payment service providers (PSPs) and risk service providers. With the addition of cryptocurrency specialist Finrax, another APM has been added to IXOPAY's growing list of payment service providers.
Merchants with no prior knowledge of cryptocurrency or blockchain will benefit from Finrax's transparent approach, allowing them to confidently take their first steps into the brave new world of crypto payments. Those who choose Finrax will have an end-to-end solution for receiving cryptocurrencies with settlements in EUR or crypto, allowing for frictionless cross-border payment flows and enabling them to receive funds from their B2B or B2C operations. Invoicing via payment links is also available, allowing users to receive secure seamless payments from customers. The advanced payouts feature provides a fast and reliable way to initiate payments to suppliers and vendors. It's mid market exchange rate with no spread allows for a transparent and fair checkout experience for the end-user. As Finrax deals exclusively with cryptocurrency, chargebacks are impossible. The Crypto specialist is licensed in Estonia and has been demystifying crypto payments since 2018. Clients who use Finrax can accept payments from all major cryptocurrencies as well as stablecoins (e.g. USDT or EUR).
Due to its intrinsically private and secure nature, crypto is becoming a popular payment method within the iGaming and Forex industries. Finrax is compliant with EU regulation and offers payout capabilities in stablecoin and EUR. Thanks to this partnership, IXOPAY enterprise merchant and white label clients can now offer Finrax to their end customers. Working together, they can transparently process cryptocurrency payments globally.
"IXOPAY has a solid and proven track record to manage and improve traditional payment flows for their merchants.This makes them the ideal partner for Finrax to provide their customers with the same standards when processing cryptocurrencies. The partnership with IXOPAY helps us to proceed with our mission to make cryptocurrency payments as frictionless as possible." said Roberto Penchev and Miroslav Marinov, Co-founders of Finrax.
"We can see that the demand for crypto payments is growing, which is why we want to make sure that our clients have access to PSPs who are specialists in the field. We are excited to be partnering with Finrax, not only are they experts but their seamless approach to payments and pricing transparency mirror our own business practice. It is always a pleasure to work with a company that puts the clients' needs first." added Gox Mailer, Chief Strategy Officer at IXOPAY.
IXOPAY merchant and white label clients have access to Finrax through a simple plugin-based integration now!
Free Newsletter Sign-up