Global Banking Experts to Share Insights on the Future of Payments at PayExpo Europe 2016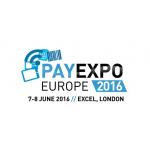 Global Banking Experts to Share Insights on the Future of Payments at PayExpo Europe 2016
Payments
,
IT Innovations
Over 2,000 senior executives from the world's leading financial institutions will gather at London's ExCeL for the UK's largest payments event, PayExpo Europe. Held on 7 and 8 June, the event will unveil the future of financial technology, payment innovation and digital banking.
With endless speculation about the various iterations new banking platforms will take, the comprehensive two day conference and exhibition will feature unique insight on key issues ranging from the rise of 'challenger' banks to robotics in financial services.
Key representatives from Citibank and Danske Bank will contribute to a dedicated forum, The Future of Banking, where expert speakers will discuss their predictions for new banking systems and transaction technology. Delivering a metrics-driven speaker session, Jane Zavalishina, CEO at the Yandex Data Factory, will discuss 'Big data and what bankers are doing wrong'. Richard Wagner, Chairman of the Emerging Payments Association will present his vision for digital banks looking to increase market share.
A compelling panel discussion will provide global perspectives on the international market, with Miguel Valero, Director Banca Digital at Banorte, providing a South American case study. Making a highly anticipated contribution, Usman Quereshi, Senior Technology Consultant at the Bank Pasargad, will explain Iran's success in digital banking. Forecasting the demise of traditional banking institutions, Tom Blomfield, CEO at Mondo, will analyse why established banks will become redundant in the digital era.
A new feature for 2016 is the Banking Innovation Hub. This dedicated strand will showcase leading case studies for banks deploying advanced payments technologies. Topics to be discussed include how traditional banks can keep pace with 'challenger banks' and how newer banks can evolve while avoiding risk.
The event features five conferences: Market Regulation and Evolution, Security Authentication and Biometrics, Future of Banking, Connected Commerce and Analytics, Loyalty and Localisation while six new interactive workshops cover the latest in new payments innovations.
A wide ranging exhibition will showcase the latest payments technologies underpinning all aspects of omni-channel distribution including: Amazon, The Bancorp, Worldpay, FIS, Tieto, Currency Cloud, Web Shield, Carta Worldwide and Compass Plus.
PayExpo Europe is also working to connect banks, financial organisations and investors with the innovative start-ups who are developing new game-changing technology. As well as the comprehensive conference, the event will feature Payments Dragon's Den where FinTech start-ups pitch their new ideas live and The Payments Accelerator where up-and-coming companies will be on show.
Michael Seaman, event director at PayExpo Europe, comments:
"As the largest event of its kind in the UK, PayExpo Europe offers leading industry insight into the latest trends and best practice. The event is a must-attend with many major names set to share the secrets and opinions. With five conference strands to attend, endless networking opportunities and new features to explore, delegates can enjoy a packed, productive and valuable experience."
PayExpo Europe attracts over 2,000 attendees from retailers, banks, MNOs, gaming operators, government and local authorities, transport operators and solution providers. Held in London, the FinTech capital of the world, delegates can share insight, best practice and innovation about the future of payments and transaction technology and their impact on global commerce
A full two-day conference pass is £999+VAT. Full details are available at http://paymentsworldseries.circdata-solutions.co.uk/rfg/publish/PEXL2016/
Complimentary passes are available for those involved with specifying payments solutions at: Retail Banks; Retailers; Mobile Network Operators, Gaming Executives, Transport Operators, Hotel and Leisure Executives, Start-ups and Government Authorities.
Registration is now open at www.payexpo.com/europe
Consult Hyperion and CCG Catalyst are Global Insight Partners of the event and Supporters include PayPal, SIMalliance, Bandwidth Recruitment, Prepaid International Forum, UK Gift Card & Voucher Association, Association for Interactive Media & Entertainment, Bandwidth Recruitment, Edgar Dunn & Company, Emerging Payments Association, Emerging Payments Awards, European Payments Council, IMA, London & Partners, Vendorcom, TIGA, Startupbootcamp FinTech and Altéir Consulting. Pennies are the Charity Partner.
Gold Sponsors include The Bancorp and FIS. Silver Sponsors are Gibraltar Finance and WorldPay. Bronze Sponsors include Feedzai, Compass Plus, Global Processing Services, Currency Cloud, Callcredit Information Group. Bottomline Technologies is the Payments Innovation Sponsor. IDT Finance is the Lanyard Sponsor & Exhibitor. Chartwell Compliance is the Brand Sponsor.
Free Newsletter Sign-up