Connective Opens Office in Netherlands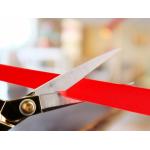 Connective Opens Office in Netherlands
Connective, a leading provider of e-signatures, e-transactions and e-mandates solutions announces today that is has opened its Dutch office in The Hague, the Netherlands.
Starting a new office is a direct result of the growing demand of our client-base as well as strong interest from various financial industry sectors in the Netherlands. The local presence will allow Connective to stronger align with client and market-specific needs and developments.

"Expanding business with new Connective offices is an important step towards realising our goals to become a leader in Europe and other regions," says Eric Bohner, CEO Connective. Together with the opening of the office Connective announces the hire of Mickey Vonckx as General Manager for the Netherlands.

Mickey Vonckx brings extensive business development skills to further fuel the plans and ambitions within Connective. By combining his commercial and market experience acquired with software companies like Clear2Pay, SunGard and Hanse Orga with senior positions at ABN AMRO, Connective will benefit from his experience to further grow its presence in the region.

The new office will enable Connective to extend its client coverage in the Netherlands as well as better anticipating on local developments. In the next years significant developments are to be expected by the introduction of e-transaction and digital signatures services that will optimise disrupted processes.
Free Newsletter Sign-up