Bitcoin payments made easy: Shopping cart modules for e-commerce merchants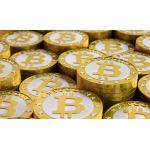 Bitcoin payments made easy: Shopping cart modules for e-commerce merchants
More and more e-commerce merchants are taking an interest in bitcoin payments, in order to set themselves apart from their competition and target the growing number of customers with bitcoins. Innovative gateways such as Coinsnap now offer simple integration of bitcoin payments, including comprehensive payment services for more than 30 leading shopping cart systems.

Millions of new customers with bitcoins to spend

Bitcoins are revolutionizing commerce – they enable consumers worldwide to carry out real-time commercial transactions independent of banks and free from fees and commissions. All they need is a bitcoin wallet, and perhaps the associated bitcoin app on their smartphone.

And the number of bitcoin users is rapidly on the rise. As of April 2015, 8.5 million consumers worldwide already had bitcoin wallets, and the trend is only gaining steam – according to current forecasts, more than 12 million consumers will be dealing in bitcoins by the end of 2015. And as a rule of thumb, the number of users can be expected to double every 10 months.

This fast-growing community of bitcoin users is, of course, specifically interested in shopping with providers whose products can be purchased with bitcoins – providers that they naturally search for, and find, on the internet.

Although the total number of bitcoin payments is still relatively small, more and more online merchants are recognizing the growing trend and offering this new payment method to their customers – in order to set themselves apart from their competition and tap into the market of consumers who use bitcoins.

Currently, more than 100,000 online merchants worldwide already accept bitcoins as payment for the products sold in their online shops!

Bitcoins – the most secure, quickest, and cheapest payment method for merchants

Bitcoin payments offer a range of advantages for online merchants. First of all, Bitcoin payments are significantly cheaper than other online payment methods, such as credit cards and online bank transfers.

Another advantage is the guarantee of payment. Once a bitcoin payment has been made, it cannot be reversed by the customer – making chargebacks and fraudulent orders a thing of the past.

Bitcoin is also available worldwide as a payment method, thus allowing merchants to tap into potential customer bases in countries that have previously lacked suitable payment methods.

E-commerce merchants, though, generally do not offer their goods and services for sale in exchange for bitcoins, but rather for euros or some other currency. And they generally have no interest in collecting bitcoins in their accounts.

E-commerce merchants who wish to tap into the growing market of bitcoin customers thus rely on bitcoin payment gateways, which provide them with modules through which they can easily integrate bitcoin payments into their online shops.

Bitcoin payment modules enable online payment processing in real time, with no risk, and at minimal cost.

Bitcoin payment integration with Coinsnap

One of the leading providers of bitcoin payment modules for e-commerce vendors is the Dutch provider Coinsnap.

Coinsnap's bitcoin payment module can be installed simply and easily by online merchants themselves, or can be integrated into their shopping sites by Coinsnap for a small fee.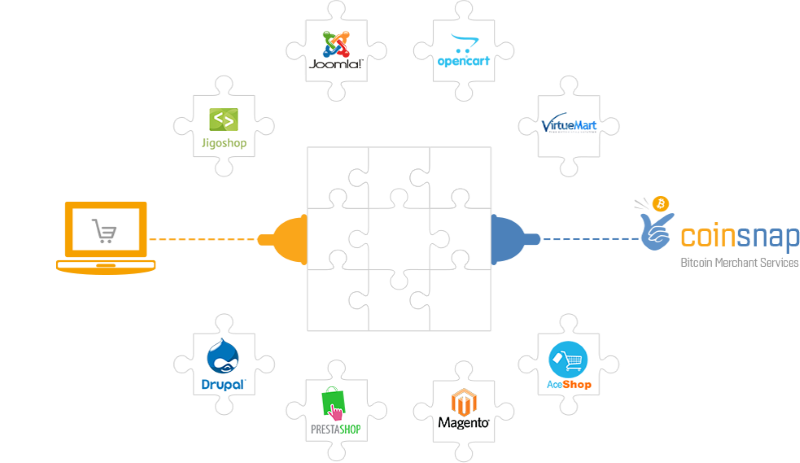 Coinsnap supports more than 30 popular shopping cart systems, including: AceShop, commerce:SEO, CRE loaded, CS-Cart, Drupal Commerce, Gambio, JTL 3, LemonStand, Magento, Mijoshop, modified-shop, OpenCart, osCommerce 2.x, OXID eSales, PrestaShop, SEO:Mercari, Shopware, ShopPro, Ubercart 2.x, Ubercart 3.x, WordPress E-Commerce, WordPress Event Espresso, WordPress JigoShop, WordPress WooCommerce, X-Cart, XoniC, xt:Commerce v 3.x, xt:Commerce 4, Zen Cart

Upon choosing Coinsnap, the merchant receives a complete software and payment-processing package that enables it to quickly and easily start offering bitcoins as a payment method – and thus enjoy the advantages of bitcoins and the growing numbers of consumers who use them.

Advantages of bitcoin payments with the Coinsnap module

After integrating the Coinsnap payment module into its website, the online merchant will be able to offer its customers a new payment method – one that makes all other current payment methods seem outdated in terms of security, cost, and user-friendliness.

If the customer wishes to purchase a product that costs 100 euros, for example, he can simply click on the "Pay with bitcoins" button on the payment page – the module automatically converts the euro amount into bitcoins at the current market rate, and then asks the customer to transfer the corresponding amount of bitcoins into a bitcoin wallet.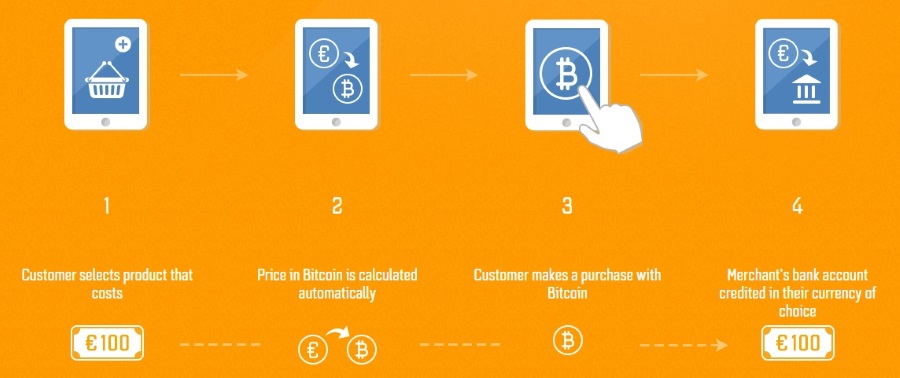 When the payment has been posted successfully, the merchant receives notification of the successful payment, and can then deliver the goods or services that were purchased.

Coinsnap settles the account for the merchant, paying out the purchase price in euros into the account specified by the merchant – no additional accounting for bitcoin payments is required by the merchant, nor does the merchant need to have a bitcoin wallet of its own.

When the merchant sells a 100-euro product from its shop to a customer who pays with bitcoins, the merchant still receives the exact same 100 euros – settled and paid. The merchant need not know anything or do anything about bitcoins – all that is needed is the one-time integration of the Coinsnap payment module into the merchant's shop.

Coinsnap offers merchants a unique complete package comprising a shopping cart module, calculation of bitcoin exchange rates, collection of incoming bitcoin payments and sale of bitcoins on the market, and posting of payment amounts to the merchant's account in the "official" currency of the shop – all via a cost-effective and easy-to-install process.
Free Newsletter Sign-up