ACI's UP eCommerce Payments Solution Recognized as Industry Leader at FStech Payments Awards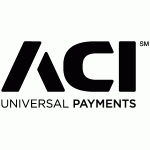 ACI's UP eCommerce Payments Solution Recognized as Industry Leader at FStech Payments Awards
ACI Worldwide, a leading global provider of real-time electronic payment solutions, was honored at the 2016 FStech Payments Awards on October 20. The UP eCommerce Payments solution, as a leading payments and fraud solution for merchants and payment providers, was recognized in the 'Best Online Payments Solution (Merchant)' category.
The judging panel, comprised of influential members of the UK payments industry, selected the UP eCommerce Payments solution from a shortlist of other leading offerings. ACI was identified as delivering a solution that combines connectivity to a global network of more than 350 card acquirers and alternative payment methods, with flexible payment infrastructure based on an open API.
"The UP eCommerce Payments solution's combination of an extensive global payment network, delivered by the PAY.ON gateway, and supported with ACI ReD Shield's real-time fraud prevention capabilities, has proven to be a winning formula," said Andy McDonald, vice president, Merchant Payments – Europe, ACI Worldwide. "To accept this recognition on behalf of our great team, and in front of industry partners and peers at the Payments Awards, is an honor."
Merchants and their payment providers demand simplicity, global connectivity and security from their eCommerce payments solutions, and ACI's ability to deliver on this promise with leading open payment technology is further reinforced through its recognition at the 2016 FStech Payments Awards.
Free Newsletter Sign-up