Solucom Announces Acquisition of Arthus Technologies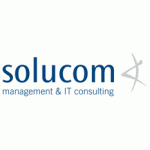 Solucom Announces Acquisition of Arthus Technologies
Solucom announces acquisition of Arthus Technologies (www.arthus-tech.com), a consulting firm based in Geneva (Switzerland).
Arthus Technologies a specialised ICT consulting firm
Founded in 2002, Arthus Technologies is a consulting firm specialised in Information and Communication Technologies (ICT). The company provides tailored solutions, ranging from strategic sourcing through to transformation management, designed to accompany its clients' international ICT projects.
Arthus Technologies' client portfolio includes several Swiss and International major accounts.
At 31 December 2014, Arthus Technologies reported revenues of CHF4.8m (€4.6m) for an operating margin in excess of 10%.
Solucom enters new stage in its international expansion
In line with Solucom's "Up 2020" strategic plan, this operation is the next stage in the firm's international expansion programme. This acquisition gives Solucom a foothold in an attractive market which will enable the firm to enhance its offering for existing clients operating in Switzerland and gain access to new international accounts.
This operation will boost Arthus Technologies' consulting offering, give the firm access to new clients and enhance its ability to attract talent.
Co-founder of Arthus Technologies, Harold Syfrig declared, "This merger with a top-ranking consulting group is a tremendous opportunity which will help us step up our expansion, enhance our consulting offering and provide greater career-development possibilities for our employees. We are obviously very eager to become part of Solucom's international expansion programme".
Commenting on the operation, Chairman of Solucom, Pascal Imbert said, "Switzerland is a highly coveted market for consulting firms. In particular, it is characterised by the large presence of international accounts, notably in the fields of banking and insurance which are two priority sectors for Solucom. Following on from the merger with Hudson & Yorke, Arthus Technologies strengthens our ambition to become a leading IT sourcing advisory firm in Europe".
The merger will take the form of a cash settlement made by Solucom to acquire 100% of Arthus Technologies' capital. The newly-acquired company will be consolidated in Solucom's accounts as of 1 July 2015.
Free Newsletter Sign-up