Marketwired Joins Nasdaq Family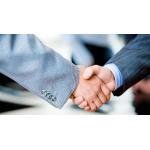 Marketwired Joins Nasdaq Family
Nasdaq, Inc. announced that it has entered into a definitive agreement to acquire Marketwired, a leading global provider of news distribution services and analytics for communications professionals. Marketwired services over 8,500 clients, including Forbes 2000 companies, private corporations and public relations agencies. The acquisition is expected to further bolster Nasdaq's position as a leading, global corporate services provider. Subject to customary conditions, the deal will be funded through a mix of debt and cash on hand and is expected to close in the first quarter of 2016.
Nasdaq's corporate services clients will benefit from an enhanced experience by gaining access to Marketwired's market-leading social media targeting tools and analytics. As the media landscape continues to expand globally, including tremendous growth of social media channels, the combined organization will be a leader in global distribution of news releases through Nasdaq's world-class GlobeNewswire distribution capabilities and work-flow platform, as well as Marketwired's leading offering of social media targeting and monitoring services.
"This transaction is a testament to our commitment to growing this business and delivering the most innovative communications tools and intelligence to our Corporate Solutions clients across the investor relations and public relations solutions suite," said Adena Friedman, President and Chief Operating Officer, Nasdaq. "As our clients' needs continue to expand, we will be well-positioned to offer new tools, content, and services to meet their evolving IR and PR challenges and opportunities."
The acquisition is expected to be accretive to Nasdaq's non-GAAP earnings within twelve months of closing and should have no material impact on Nasdaq's financial leverage or capital return strategy.
"There is a natural fit between the two organizations in terms of our long-term strategy and shared values based around innovation and customer centricity," said Adnan Ahmed, President and CEO, Marketwired. "We are excited about the benefits this combination will provide to Marketwired clients through a broader global distribution network, a comprehensive end-to-end workflow solution, and improved customer service."
"This is a major opportunity for our Corporate Solutions business to enhance its end-to-end portfolio of services for communication professionals-including news distribution, media research, social media and analytics," said Stacie Swanstrom, Senior Vice President and Head of Corporate Solutions, Nasdaq. "We will also make use of existing resources-including an expanded presence in North America, particularly Canada-to provide an even stronger service and account management experience for our clients."
Free Newsletter Sign-up