Bsquare Introduces Cross-platform IoT Apps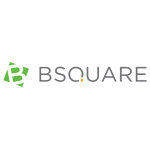 Bsquare Introduces Cross-platform IoT Apps
IT Innovations
,
Infrastructure
As more businesses deploying IoT systems need applications compatible with their preferred cloud provider, DataV cross-platform apps uniquely addresses this challenge by being utilizable on multiple cloud IoT platforms.Industrial IoT applications can be deployed in conjunction with Amazon Web Services (AWS) or Microsoft Azure IoT platform services as well as standalone or IaaS deployments on any cloud.
Bsquare (NASDAQ: BSQR) today introduced a suite of cross-platform Internet of Things (IoT) apps as part of its DataV™ Hybrid IoT platform (HIP). DataV already supports a rich array of use cases focused on business and industrial markets; with DataV cross-platform IoT apps, time-to-value is dramatically reduced and deployment flexibility is enhanced.
Bsquare's cross-platform IoT apps are enabled through the DataV Hybrid IoT Platform (HIP). Modularly architected, DataV HIP provides all required platform functions needed for deployment in private data centers or any public Infrastructure-as-a-Service (IaaS) cloud offering. Uniquely, DataV HIP is also available in versions tuned for AWS and Microsoft Azure deployments, taking full advantage of IoT platform functions available from those leading cloud suppliers.
According to Dave McCarthy, Bsquare senior director of products, "We hear two consistent themes from our customers: first, deploying IoT should not be a software development project, vendors should offer finished solutions not development kits; and second, they have invariably made a strategic cloud decision, IoT solutions should be fully compatible with their preferred cloud provider. DataV is unique in meeting both of these objectives."
Currently available DataV cross-platform IoT apps include:
| | |
| --- | --- |
| DataV Predict | Forecasts future device states in order to expose potential failure conditions and identify negative performance trends. Improves asset uptime by minimizing or eliminating unplanned downtime. |
| | |
| DataV Repair | Uses historical data from large populations of equipment as well as real-time device state in order to dynamically prescribe optimal repair sequences. Reduces service and warranty expenses, improves asset uptime, and improves first time fix percentage. |
| | |
| DataV Manage | Provides secure management of scaled-out populations of IoT devices, including software distribution and configuration management. Can also be used to enable distribution of apps to remote devices that support third-party applications. Reduces implementation costs, enhances security and facilitates scale. |
| | |
| DataV Maintain | Employs historical and real-time data in order to identify optimal maintenance intervals. Reduces service and maintenance expenses and improves asset longevity by avoiding under- or over-servicing of assets. |
| | |
| DataV Optimize | Evaluates the performance of populations of equipment in order to identify subsets performing below expectations. Uses digital twin technology to extract behavioral characteristics of over-performing assets and apply those to under-performing assets. Improves asset performance and efficiency. |
| | |
| DataV Track | Visualizes actual asset utilization information and provides the ability to apply rules-based logic in order to enforce compliance with business policy and regulatory concerns. |
DataV cross-platform IoT apps are available now. Contact Bsquare for pricing.
Free Newsletter Sign-up