Khaleeji Commercial Bank Reveals Innovative and Leading Products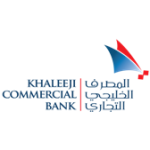 Khaleeji Commercial Bank Reveals Innovative and Leading Products
Khaleeji Commercial Bank, one of Bahrain's leading Islamic banks, has recently launched a range of innovative and leading products including the "I'teman" account, the "Easy36" credit card and the "Thabet" account.
The "I'teman" account is compliant with Shari'a principles and works as an alternative to the conventional overdraft where this inventive product provides corporate customers with a revolving credit limit. Through this account, businesses can manage their cash flows, general expenses and recognize any potential mismatches, in addition to also offering customer comfort of being able to have a standby reserve of emergency cash on hand, transfer through telex, money transfers upon request and various other financial benefits.
The "Easy36" credit card operates as a financial solution in compliance with the Shari'a, where the credit card is designed for customer ease with all transactions purchased using the card. The credit card holders can repay the same over 36 easy monthly installments. This in addition to being able to change the installment period within 48 hours by contacting the call center. The "Easy36" credit card also provides travel insurance to holders of basic and additional cards with the advantage of receiving additional cards on-demand. Lastly, card holders can collect travel miles with Gulf Air and Qatar Airways with any travel bookings made with the card.
It is worth mentioning that both "I'teman" and "Easy36" received prestigious awards by the well-renowned Global Banking & Finance Review Awards for Best Islamic Credit Card Program (Easy36) and Best Islamic Banking Product (I'teman Account) in Bahrain for being unique and pioneering financial products and services that provide customers with a matchless banking experience.
Finally, the "Thabet" account is a Shari'a compliant account that's considered to be a unique investment opportunity based on Murabaha principle with guaranteed capital profits with a minimum of BD 5,000. The account gives the bank's clients the opportunity to enjoy 3.25% profit rate over 2 years with monthly profit distribution.
On this occasion Mr. Khalil Al Meer, CEO of KHCB said, "The launch of these products mark another milestone in our quest to make banking truly simple and Shari'a compliant for our customers. We remain firm on our objective to deliver banking products and services tailored to meet the diverse needs of our ever-growing customer base by leveraging technology to make banking faster, safer and more accessible for all our customers".
"KHCB has always had a strong focus on improving customer experience. We strive to deliver not only fast and reliable services, but also innovative products in full compliance with the Shari'a, so that our customers feel very comfortable and satisfied with us", continued Mr. Al Meer.
Mr. Al Meer added, "The success of KHCB has been based on providing the services that our corporate customers want, and in the way they want to use them. We are fully aware that with fierce competition for customer acquisition and retention, KHCB could not afford to make any mistakes in launching Islamic products and services based on leading-edge technology. Working closely with Path Solutions has allowed us to develop innovative, feature-rich and integrated services tailored to the specific needs of our customers and what they have come to expect in the modern Islamic banking landscape".
KHCB, a long-standing partner of Path Solutions, has signed an agreement with the latter to implement iMAL Islamic Banking & Investment System in 2002, to help launch new Shari'a compliant products quickly and easily, improve the bank efficiency and reduce operational costs. KHCB has consistently played a leading role in Bahrain's Islamic banking industry. The bank serves as a role model within the Islamic financial services industry due to its bias for world-class innovative alternative banking products combined with excellent service quality and the highest level of security.
In a world that is moving faster than ever before, Path Solutions helps clients to accommodate to local needs and variances in Islamic banking practice and culture. With over 100 successful implementations completed, Path Solutions is uniquely qualified to help Islamic banks stay ahead of the competition while remaining Shari'a compliant.
Free Newsletter Sign-up