Group Chairman & CEO of Path Solutions ranked among the Top 50 Global Leaders of the Islamic Economy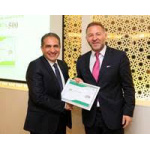 Group Chairman & CEO of Path Solutions ranked among the Top 50 Global Leaders of the Islamic Economy
Mohammed Kateeb, the Group Chairman & CEO of Path Solutions has been listed by ISLAMICA 500 as one of the world's Top 50 distinguished personalities who have made a major impact on the Islamic economy again this year.
The announcement was made during the kick off of the Edition 2020 at a gala dinner at The H Dubai on Tuesday 18 February, bringing together a mix from the world's most prominent leaders of the industry, as well as regulators and government officials.
It marks the fifth time that Kateeb has received this type of esteemed industry and peer recognition by placing him among the leaders who have built and pioneered the Islamic economy and Halal industry.
Kateeb is an industry veteran with over 30 years of experience having served in various leadership positions driving organizations' innovation and transformation agendas prior to his current role at Path Solutions. These range from being part of Microsoft's Middle East executive team, to advancing the development of next-generation technologies that drive differentiation and measurable business value to keep pace with the new Islamic Fintech landscape.
Kateeb has unparalleled expertise in applied AI in financial services and assisting organizations to adapt to Fintech, as well as offering knowledge into cutting-edge financial technologies to keep organisations technologically current for a more inclusive financial system. He is a founding member of some of the world's leading incubators and advises Fintech hubs on identifying, incubating and scaling new transformational businesses while utilizing emerging technologies such as Digital, AI, ML and Big Data.
ISLAMICA 500 is a publication of the Brussels-based IsFin Institute, the academic and training subsidiary of IsFin. IsFin is the world's leading advisory for Islamic markets. As an independent consultancy firm, IsFin operates in 75 countries across five continents.
ISLAMICA 500 is supported by the WIEF (World Islamic Economic Forum), the ICD (Islamic Corporation for the Development of the Private Sector), and the UNHCR (United Nations High Commissioner for Refugees).
To view the list of this year's Top 50 Global Leaders of the Islamic Economy, go to https://www.islamica500.com/dc/TOP50-ISLAMICA500-list-2020.pdf
Free Newsletter Sign-up