Liquid adopts KRM22's Trade Surveillance Platform Irisium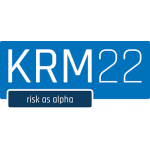 Liquid adopts KRM22's Trade Surveillance Platform Irisium
Investment Management
,
Wealth Management
,
Risk Management
KRM22 Plc, the technology and software investment company, with a particular focus on risk management in capital markets, today announces that its market surveillance product, Irisium, has been selected by Quoine, a global fintech company. Irisium will be integrated on Liquid, a Quoine platform.
Through its Liquid platform, Quoine provides trading, exchange and next generation financial services powered by blockchain technology. Inspired by the disruption introduced by blockchain and digital currencies, Quoine focuses on making financial services accessible to all. It provides innovative cryptocurrency software that offers superior security capabilities and liquidity, and makes buying and selling of digital assets easy using Bitcoin, Ethereum, QASH and multiple fiat currencies.
Liquid will use Irisium to identify and investigate manipulative behaviours and suspicious trading practices on its exchange, allowing for greater control and improving market integrity. Irisium's clear and contextual surveillance tools will allow Quoine to benefit from superior calibration to keep pace with continuously changing market conditions.
"As our market matures, it is critical that we develop and protect the integrity of our exchange. Implementing an effective market surveillance application will help us to achieve this. We hope Irisium's subject matter expertise and innovative technology will help us to provide a secure and scalable trading environment for our customers," said Masaaki Kawahata, Head of Global Compliance at Quoine.
Saeed Patel, Director of Product Strategy at KRM22 commented: "Participants of the crypto asset market are becoming increasingly cognizant of the value presented by the implementation of market abuse surveillance solutions. We are delighted that Quoine has selected KRM22's Irisium to support compliant and efficient operations. We look forward to working with Quoine to further build on their commitment to ensuring the protection of its customers and maintaining a fair and orderly marketplace for all."
Free Newsletter Sign-up