Registrations for the 4th Paybase Collaborative Workshop Now Opened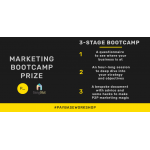 Registrations for the 4th Paybase Collaborative Workshop Now Opened
Registrations for the 4th
Paybase
collaborative workshop (25th of June 2019) have now opened
here
. This workshop will be all about marketing and PR. As platforms, it's not a case of simply getting people to buy your product, you must market to both buyers and sellers. The platform cannot function without either, so getting that balanced approach right is vital to business success.
For this reason Paybase have teamed up with
Ganghut
, the marketing and PR agency created with platform businesses in mind. They will be offering expertise on how to best market your product and use PR to your advantage. Whilst this is the fourth in their series, you do not have to have attended any of the previous workshops for this to be relevant.
They will be giving away a very special prize to one lucky attendee. GangHut are offering a free place on their 3-stage bootcamp. A draw will be held on the night for all people present, so make sure you make it down to be in with a chance of winning this fantastic prize!
Free Newsletter Sign-up