Quint Group Awarded Queen's Award for Enterprise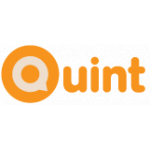 Quint Group Awarded Queen's Award for Enterprise
MACCLESFIELD fintech company Quint Group has been awarded the prestigious Queen's Award for innovation.
The Queen's Award for Enterprise is widely recognised as being the UK's highest accolade for business success. The annual awards recognise British firms that have excelled in exporting, social or environmental good work, or innovation.
Quint owns and operates four mutually beneficial and strategically aligned fintech companies in the consumer credit sector. All of its companies are powered by the Group's market-leading proprietary technologies.
The Group was also recently named number 40 in the Sunday Times 100 Best Small Companies to Work For in 2017.
Greg Cox, CEO and founder of Quint Group, said: "It's an honour to be awarded a Queen's Award for Enterprise in Innovation. Unlike many of our competitors we develop our technology entirely in-house, making it extremely difficult to replicate. The award is testament to the hard work of all our staff and shows that we are at the forefront of the fintech industry.
"Having recently secured a £10m financing deal this is an exciting time for the company. Our aim this year is to grow our international presence while continuing to innovate and grow in our core markets."
Quint, which employs over 100 staff, owns MoneyGuru.com the UK's fastest growing consumer price comparison site, as well as financial management services such as Credit Angel and its data business, Monevo Data Services which develops and provides cutting edge credit, risk, marketing and analytical data.
Free Newsletter Sign-up