Pyramid Analytics Ranks as Overall Leader in Customer Experience and Vendor Credibility in 2017 Dresner Wisdom of Crowds Business Intelligence Market Study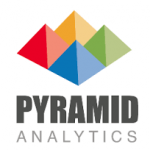 Pyramid Analytics Ranks as Overall Leader in Customer Experience and Vendor Credibility in 2017 Dresner Wisdom of Crowds Business Intelligence Market Study
Pyramid Analytics, a leading global provider of enterprise business intelligence (BI) software, announced today it has been recognized as an overall leader in Customer Experience and Vendor Credibility by Dresner Advisory Services' flagship BI market report, the 2017 Wisdom of Crowds Business Intelligence Market Study. This is the third consecutive year the company has earned placement in the report.
Pyramid earned improvement in every category, as compared with 2016 results. These categories include sales, value, product, technical support, consulting and integrity. The company also received a perfect recommend score from its customers.
"We are pleased to be consistently recognized as a leader in one of the most comprehensive industry reports on business intelligence," said Omri Kohl, Pyramid Analytics co-founder and CEO. "Being an overall leader reflects our strong commitment to our customers, who rely on our platform to help them make critical, data-driven decisions using a collaborative, agile and secure BI system they can trust."
Pyramid Analytics also was recognized for its collaborative BI capabilities and governed data discovery features in the 2017 Collective Insights Market Study from Dresner Advisory Services.
In the 2017 Wisdom of Crowds Business Intelligence Market Study, Pyramid Analytics was ranked against 26 vendors based on Dresner's trademark 33-criteria evaluation model that compares each vendor's performance to their previous year's performance and to the average for all vendors
"Businesses use the Wisdom of Crowds Business Intelligence Market Study, now in its eighth year, as an objective source of industry research to understand how their peers leverage and invest in BI and related technologies," said Howard Dresner, founder and chief research officer of Dresner Advisory Services. "We congratulate Pyramid Analytics once again for their strong performance in this year's study."
Free Newsletter Sign-up