ProcureCon Indirect Announces Preliminary Speaker Lineup and Agenda Europe's leading event for CPO's & Heads of Indirect from the world's largest indirect spenders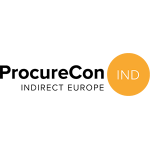 ProcureCon Indirect Announces Preliminary Speaker Lineup and Agenda Europe's leading event for CPO's & Heads of Indirect from the world's largest indirect spenders
The organizers of ProcureCon Indirect (31st March – 1st April, 2020), Europe's leading event for CPO's & Heads of Indirect, has announced their agenda and speakers for 2020. Download your free copy here: https://bit.ly/336OsiS
The 2020 agenda encapsulates the current issues and future challenges that are top of mind for Indirect Procurement professionals, including:
Moving Beyond Cost Saving: Procurement as a Business Partner & Value Generator
Understand requirements of key stakeholders, align procurement strategies and adopt the workforce to meet these demands.
Emerging Technology & Digital Transformation
Attend a panel to learn which digital tools/solutions are the most relevant to buy but also how to integrate within the workforce to successfully ensure ROI.
SRM, SCR & Sustainability
Join us for a case study on transparency within the chain between stakeholders, buyers, suppliers and end users to understand sustainability programs & toolkits that are being promoted by companies to tackle issues such as modern slavery, Brexit and diversity in the workplace.
Over 50+ speakers have been confirmed to date for 2020, including:
Rahul Vijay, Global Head of Sourcing, Uber *New
Paul Clutton, CPO, Costa Coffee (Coca Cola Group) *New
Rob Alexandar, CPO EMEA, JLL *New
Michael Gaggiano, MD of Global Procurement, Accenture *New
Phil Thomas, MD & Headf of Global Sourcing, Barclays
Warren Chambers, VP of Indirect Procurement, BT *New
Marco Romano, Procurement Data& Analytics Officer, IBM
Robert Skidmore, Head of Category Management, AXA Group *New
Frank Faisst, Global Head of Indirect, Generali *New
Roger Gonourie, Head of Global Sourcing, Swiss Re
To view the preliminary agenda or to learn more about the event at ProcureCon Indirect, please visit https://bit.ly/336OsiS. For the latest news, be sure to follow us on Twitter @procureconeu and LinkedIn @ProcureCon
Free Newsletter Sign-up