CFO Summit - Are you a Finance leader?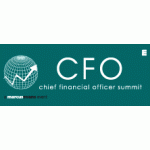 CFO Summit - Are you a Finance leader?
If so, the 37th CFO Summit will help you gain insight into new #strategic approaches that meet the ultimate goal of reducing #cost and improving #operational #efficiency.
When: November 7-9, 2019
Where: Four Seasons Resort & Club at Las Colinas| Irving, TX
The 37th CFO Summit program will include presentations from the likes of:
Karl Rove, Iconic Political Strategist; Former Deputy Chief of Staff and Senior Advisor to President George W. Bush; Fox News Contributor & WSJ Columnist
Donna Brazile, Iconic Political Strategist, University Professor, New York Times Bestselling Author, Fox News Contributor and Former Interim Chair of the Democratic National Committee
Stefano Sartoretti, SVP & CFO, PepsiCo Foods North America, #PepsiCo
Sumit Dangi, SVP & CFO, Global Data & Analytics, #HSBC
Duncan Webster, Global Finance Director Chocolate Business Unit, #MarsWrigley
Robert Dye, Chief Economist, #ComericaBank
Connect with 50+ CFO's, SVP's, VP's of Finance, Treasurers and Controllers who have been qualified via the following criteria: Scope of responsibility, Sign-off Authority, Company Revenue, Interest in Purchasing Products and Services
For more details, visit: https://bit.ly/2n48sUy
or contact Anestis Hadjicostas at AnestisH@marcusevanscy.com to apply for an invitation.
Free Newsletter Sign-up